Upgrade Your Space with Bathroom Remodeling in Gainesville, FL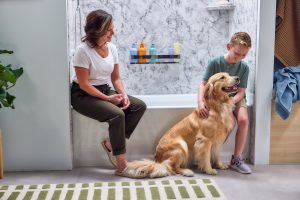 Elevate your space and turn your bathroom into a sanctuary in Gainesville, Florida, with Jacuzzi Bath Remodel. Experience excellence in bathroom remodeling, where we blend quality, functionality, and style seamlessly. Enjoy a spa-like experience without compromising on safety. Our products, rich with anti-microbial protection, promise you a fresh, clean, and low-maintenance bathing space, enhancing your wellbeing every day.
Explore the Wide Array of Services We Offer
Jacuzzi Bath Remodel provides many services, including:
Bathtub Installation
Trust us for a seamless, premium bathtub installation that's durable and easy to maintain.
Shower Installation
Our shower installation services ensure that you have a rejuvenating shower experience every day.
Tub-to-Shower Conversions
With our tub-to-shower conversions, you can replace an old, unused tub with an elegant shower.
Local Bathroom Remodelers
Our team of local bathroom remodelers in Gainesville, FL is committed to transforming your bathroom space, ensuring it mirrors your unique style and needs.
Small Bath Remodel
Even with limited space, our small bath remodel services ensure optimal utilization and aesthetic enhancement.
Performance and Care
Performance and care stand at the forefront as we bring you products infused with over 65 years of advanced hydrotherapy engineering leadership. As one of the leading bath remodel contractors serving Gainesville, we promise to ensure a smooth transition to your dream bathroom, prioritizing your satisfaction at every step.
Frequently Asked Questions
Our customers have had many questions for us over the years. Some frequently asked questions are:
Are Jacuzzi® Bathtubs Suitable for Families With Children?
Yes, we ensure a perfect blend of premium materials and safety, making Jacuzzi® bathtubs ideal for families with children.
Can I Install a Jacuzzi® Bathtub on an Upper Floor of My Home?
Absolutely, yes. Our bathtubs are designed to fit seamlessly on any floor of your home.
Do I Need to Make Changes to the Plumbing When Converting to a Shower?
Minimal changes may be required, and our team will handle all your plumbing needs efficiently and professionally.
Why Choose Us?
We offer:
A limited lifetime warranty
Easy maintenance and installation
Unmatched design and quality
Committed customer support
Your dream bathroom in Gainesville, FL, is just a click away. For an unmatched bathroom remodeling experience that promises quality, premium materials, and functionality, contact us today. With Jacuzzi Bath Remodel, you can prioritize your comfort, wellbeing, and style in every bathroom experience.