Experience the Luxury of Jacuzzi® Bathtubs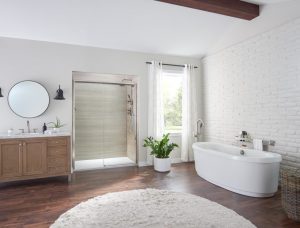 At Jacuzzi Bath Remodel, we know that we all need a place where we can slow down and let go of the stress of our daily lives. We also know that the best place to do that is in the comfort of our own homes, which is why we craft our bathing area products with relaxation in mind. Whether you consider yourself a Bathlete™ or prefer showers over soaking, you are sure to appreciate the thoughtful craftsmanship of a Jacuzzi® Bathtub. These bathtubs are an elegant staple for your home and are expertly crafted. From traditional soakers with modern designs to jetted bathtubs in a multitude of experiences, each bathtub is specifically engineered to cater to your unique needs. What's more, we use only the industry's best materials for our Jacuzzi® bathtubs to ensure you benefit from a tub that offers the utmost beauty and durability for years to come.
Bathtub Features
When you picture your dream bathroom, what features does it have? There's a good chance that what you imagine feels more like a spa-like oasis than simply a space where you go to get clean every day—but bathing as never imagined starts with the right bathtub. From a sanctuary of warm water to a gorgeous getaway, your dream bathroom should delight all your senses. Whether you are looking for a jetted or soaking bath experience you will be enchanted by a Jacuzzi® bathtub. What's more, Jacuzzi® baths are fully customizable and built with an array of advanced features that bring the relaxing experience of the spa right to your own home. In fact, you can:
Indulge in a bathing experience that could only be created by the originators of hydrotherapy
Select from a range of style options, installation types, and hydrotherapy experiences
Discover a balance of ergonomics and power built into every product, designed to fit your body well
Enjoy sophisticated and imaginative designs crafted from the best materials for beauty and durability
Benefits Beyond Just Comfort
When you choose to invest in a Jacuzzi® bathtub, you'll benefit from a whole lot more than just the thoughtfully-designed, ergonomic nature of these tubs. You'll also:
Spend less time cleaning than you would with a traditional bathtub, as Jacuzzi® bathtubs are crafted from a premium, silver ion-infused nonporous acrylic material that is naturally resistant to the growth of mold, mildew, and bacteria
Feel confident knowing your new bathtub is stain-resistant and built to look just as good as the day it was installed for many years to come
Enjoy total peace of mind thanks to our exceptional limited lifetime warranty that protects our Jacuzzi® baths against defects in both material and workmanship
Be able to enjoy your refreshed bathroom faster than would be possible with a traditional bathroom remodel, as our bathtubs can typically be installed in as little as one day
Get Started Today
With a long-standing reputation for innovation, Jacuzzi® has truly changed the history of bathing as we know it. It's now easier than ever to experience the luxury of a Jacuzzi® tub at your home—all you have to do is get in touch with the team at Jacuzzi Bath Remodel to get started. So, are you ready to upgrade your existing bathtub to one of our exclusive models? If so, simply contact our team today to be connected to a certified local dealer of Jacuzzi® bathtubs. We look forward to helping you transform your bathroom with an expert bathtub replacement.