Transform Your Ft. Myers, FL, Bathroom Today With Our Bathroom Remodeling Services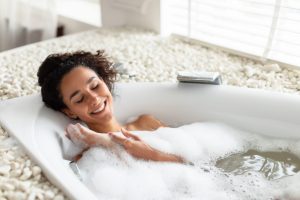 In the thriving community of Ft. Myers, Florida, bathroom remodeling is the key to transforming your ordinary bathroom into a tranquil haven. Jacuzzi Bath Remodel is your dedicated companion in this transformation journey, ensuring every aspect resonates with quality and functionality.
Beautifully Designed for You
Immerse yourself in a spa-like experience within the comfort of your home. Elevate your bathroom with our beautifully designed Jacuzzi® products, setting the ideal tone of elegance and functionality.
Our Products and Services
We offer a range of products and services to fulfill your bathroom dreams, including:
Bathtub Installation
Opt for our exquisite Jacuzzi® bathtubs that define both style and comfort.
Shower Installation
Experience a classic or modern shower space with our innovative shower installations.
Bathtub-to-Shower Conversions
Adapt to your changing needs with a hassle-free bathtub-to-shower conversion.
Anti-Microbial Protection
Our shower walls, infused with silver ions, constantly ward off bacteria and mold, maintaining the freshness and cleanliness of your bathroom space.
Easy Maintenance
Enjoy less cleaning, and more relaxing. Our products, made from nonporous acrylic, resist stains and are exceptionally easy to clean, ensuring you spend more time enjoying your new bathroom and less time maintaining it.
Limited Lifetime Warranty
Our commitment to excellence is unwavering, proven by the limited lifetime warranty we offer, safeguarding your investment against material and workmanship defects.
FAQs
We've been asked thousands of questions over the years, including:
How Long Does it Take to Complete Bathroom Remodeling on Average?
Typically, a new bathtub or shower installation can be completed in as little as one day.
Why Should I Hire a Professional for My Bath Remodel?
Ensure perfect installation, premium quality, and adherence to all safety standards and building codes with the professionals at Jacuzzi Bath Remodel.
What's the Typical Cost of a Bathtub-to-Shower Conversion?
Costs vary, but investing in our services guarantees perfection and durability.
Why Choose Us for Bathroom Remodeling?
As one of the top bath remodel contractors in Ft. Myers, FL, we prioritize your wellbeing, offering products that promise not just aesthetic appeal, but also superior performance and unmatched ease of use.
For a transformative journey that promises a premium and timeless bathroom space, contact us today. Trust us, your valued bathroom remodeling partner in Ft. Myers, FL, to rejuvenate your space with unparalleled elegance and functionality.