The Top 3 Reasons to Upgrade to a Jacuzzi® Bathtub
Oct 19, 2022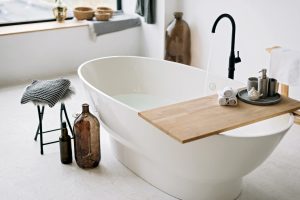 A bathtub replacement is an opportunity to enhance not only your home, but also your quality of life. After all, your bathtub is a place you can go to feel your most relaxed, comfortable, and at ease—so long as you have the right one, that is. Choosing the right bathtub for your wants and needs is key to the success of your bathtub replacement project, but you can ensure you get the kind of results you're looking for by selecting yours from the Jacuzzi® brand.
Jacuzzi® bathtubs are some of the best the industry has to offer, offering a bevy of both aesthetic and functional benefits. With that said, there are plenty of reasons to choose a Jacuzzi® bathtub over another option on the market for your upgrade. Jacuzzi Bath Remodel, a proud provider of Jacuzzi® products, is here to list a few of those reasons out for you:
1. Customizability
Your home is a reflection of you, your family, your lifestyle, and so much more. So, why should you settle for any cookie-cutter features in your home that just don't speak to you? With a Jacuzzi® bathtub, you'll never have to settle. In fact, you can personalize your new bath by selecting from an array of:
Bathtub styles
Design options
Installation types, including alcove and free-standing tubs
Hydrotherapy experiences
Instead of settling for one of the few basic options available at your local big box store, you can design your new Jacuzzi® bathtub down to the last detail so that it suits your every preference perfectly.
2. Hydrotherapy Benefits
If you look into the history of Jacuzzi® bathtubs, you'll find that they were initially designed for the purpose of promoting healing and relaxation. Through the use of motor-controlled jets that are located in specific areas, these hydrotherapeutic tubs target certain muscles in the body to increase blood flow and improve circulation. Even if you choose a soaking Jacuzzi® bathtub, you can still experience personalized hydrotherapeutic benefits without the jetted technology of other models.
When you choose to upgrade to a Jacuzzi® bathtub, you'll even be able to choose the right hydrotherapy options for your individual needs. This creates a completely custom experience, which is even further enhanced by the ergonomic design of these premium bathtubs. Hydrotherapy is known for providing numerous health benefits, and Jacuzzi® bathtubs help you experience these right from your own home.
3. Lower Maintenance Requirements
If cleaning your bathtub is one of your least favorite tasks—and one that you find yourself having to do more often than you'd like—then the exceptionally easy upkeep required by a Jacuzzi® bathtub is reason enough to invest in this bath system.  Jacuzzi® bathtubs are also made from nonporous acrylic material, which doesn't require as much effort to maintain as the types of materials used in a traditional bath system. This means that your new replacement bathtub will be as durable and easy to clean as it is gorgeous, so you won't have to worry about spending so much time trying to keep it looking good-as-new.
Explore More Reasons to Upgrade With Jacuzzi Bath Remodel
When it comes to the reasons to upgrade to a Jacuzzi® bathtub, this list really only scratches the surface. To learn more about why you should invest in one for your own home, get in touch with the team at Jacuzzi Bath Remodel today.