Alcove Bathtubs: What You Need to Know
Nov 22, 2022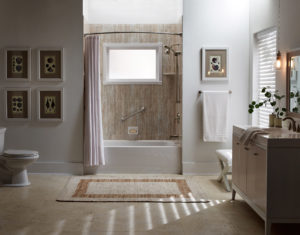 Is the bathtub at your home ready to be replaced? If so, you'll want to go into your project with a bit of background knowledge about the types of tubs that are available to you. This can help you get a better idea about which bathtub is best for you, as well as what kind of result you can expect from your bathroom remodel. One common style of bathtub to know about is an alcove bathtub, which refers to a bathtub that is installed in a recess in your bathroom (rather than a free-standing tub, which can be installed elsewhere in the room).
At Jacuzzi Bath Remodel, we offer premium Jacuzzi® bathtubs in a range of styles and installation types—including alcove bathtubs. To help you figure out if an alcove bathtub is the best option for your replacement, let's discuss what you need to know.
What Is an Alcove Bathtub?
Alcove bathtubs, sometimes called built-in bathtubs, differ from other styles in that they are installed with three adjoining walls. It's a common type of bathtub, especially for smaller bathrooms where special constraints might not allow for a free-standing soaker bathtub. However, some modern versions can be installed with only two walls touching, which avoids making the space feel cramped. Alcove bathtubs can feature a shower curtain or door enclosure, adding to their overall versatility.
Like other bathtub installation types, alcove baths are also available in different material options. These include:
Fiberglass
Acrylic
Cast iron
Copper
Stone resin
Modern day homeowners often choose to replace their bathtub with one made from acrylic, as this material is one of the most durable, low maintenance, and lightweight to make the installation easier without sacrificing quality.
The Benefits of an Alcove Bathtub
When you consider the many benefits of alcove bathtubs, especially Jacuzzi® bathtubs, it's not difficult to imagine why they're such a popular option. If you choose to replace your bathtub with one of these models, you can expect benefits like cost-effectiveness, a faster installation, and customizability. Alcove bathtubs are even available with additional hydrotherapeutic features, including bathtub jets like some of the options you'll find with Jacuzzi® products.
Why Should You Replace Your Bathtub With a Jacuzzi® Alcove Bathtub?
Now that you're more familiar with alcove bathtubs and their benefits, it's time to decide if this is the right style for your bathroom upgrade. The answer very well might be yes, but you'll want to partner with the right company for your project to ensure that you get the final result you're looking for. That's where Jacuzzi Bath Remodel comes in. We offer premium Jacuzzi® bathtubs in a wide variety of styles, including alcove bathtubs that can be customized with your choice of:
Hydrotherapy experiences
Deep soaker options
Sophisticated designs
Wall colors and patterns
Jacuzzi® bathtubs are also an outstanding investment thanks to their ergonomic design, long-lasting acrylic, stain-resistant protection, and lifetime warranty protection.
Get Your Bathtub Replacement Project Started
Ready to experience the benefits of a brand-new Jacuzzi® bathtub at your own home? If so, it's time to get in touch with the experts at Jacuzzi Bath Remodel. Contact us today to learn more about these bathtubs and connect with a local dealer near you.