Ways to Jazz Up Your Jacuzzi Bathtub | Jacuzzi Bath Remodel
Jun 07, 2022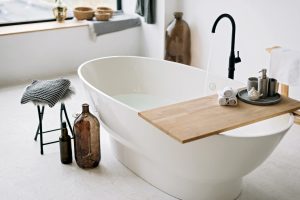 Are you interested in modernizing one of the bathrooms at your home? A great first step is to get a Jacuzzi® bathtub installed. These bathtubs are known for having a variety of benefits, including hydrotherapy to soothe sore muscles and thoughtfully designed ergonomics to fit your body well. But how can you truly transform your bathroom into a modern and sleek spa-like oasis that you'll love using for years to come? With Jacuzzi Bath Remodel on your side, the options are limitless. Here's how you can modernize your Jacuzzi® bathtub with our help:
Accessories Galore
Taking your bathtub to the next level with high-quality, stylish accessories is easy when you partner with Jacuzzi Bath Remodel. In addition to modernizing the look of your bathroom, our accessories can also enhance the safety and accessibility of your Jacuzzi® bathtub. Some great accessories to choose from include:
A movable seat and showerhead
Low-threshold options to make getting in and out of your bathtub easy
Grab bars
Soap bars, shower caddies, and shelving
Quality Materials
Not all bathtubs are created equal, and many bathtubs aren't designed to stand the test of time. They can crack and chip over the years, making them appear much older than they are. The exceptional durability of Jacuzzi® bathtubs makes them stand out from the rest. Jacuzzi® bathtubs are made with nonporous acrylic that won't crack, fade, chip, peel, or dent over time, so they will look brand new for years to come. As a result, your bathing area will look fresh and modern for the long haul.
The Jacuzzi Bath Remodel Difference
Your bathtub should feature the best of both worlds: comfort and style. With Jacuzzi Bath Remodel, you get those features and a whole lot more. We'd be happy to talk with you one on one to come up with ideas to modernize your Jacuzzi® bathtub. Our bathtubs are elegant fixtures for any home and are expertly crafted to stand the test of time.
For further peace of mind, we offer an exceptional limited lifetime warranty that protects our Jacuzzi® bathtubs against defects in both material and workmanship. Best of all, you don't have to worry about your project taking up too much of your time. Our highly trained and experienced technicians can complete your bathroom transformation in as little as one day with little disruption to your routine.
Let's Get Started
For more information about our Jacuzzi® bathtub options and how they can modernize your bathroom, contact us today and we'll connect you with an authorized Jacuzzi® dealer in your area. We'd be happy to answer any question you have and even provide you with a free quote!