What Should I Do If I Want to Modernize My Bathroom?
Jan 31, 2023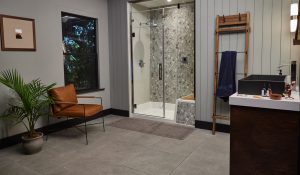 Whether you've recently purchased a home that has a bathroom that isn't to your taste, or you've been living in the same home for decades and the bathroom is beginning to show its age, you may be searching for ways to update this space. If you're ready to bring your bathroom up to date, here are some ways you can modernize it while still making sure that it matches your style:
1. Give It a Fresh Coat of Paint
For a simple fix that can have a major impact, painting your bathroom walls is a great way to update your bathroom. For a look that's truly modern, go with a bold hue such as a deep sage green, soft ocean blue, or even a calming charcoal gray. You can also opt for an accent wall in a trending color such as rose, royal purple, or stone blue if you're not yet ready for the full commitment of painting the whole room.
2. Update Your Hardware
From the handles on your cabinets to your door handle and even your faucets, these small features can have a huge influence. Changing them up can breathe new life into the space by adding a sleek and modern touch, especially when you choose contemporary styles in your preferred metallic tone.
3. Change Your Light Fixtures
Swapping your outdated lighting fixtures for something more contemporary can brighten the room in more ways than one. For best results, opt for lighting that is both flattering and attractive to look at. Popular options that provide a modern look include geometric and minimalistic styles, both of which offer clean lines that elevate the appearance of the room.
4. Switch Up Your Shower Curtain
If you have a bathtub shower combination with a shower curtain, purchasing a new curtain can be a quick and easy way to modernize your bathroom. For small bathrooms especially, you'll want to opt for a less busy design in order to make the space feel larger without distracting from the rest of the room.
5. Replace Your Bathtub or Shower
One of the best ways you can modernize your bathroom—in terms of both looks and functionality—is by having your bathtub or shower replaced. The bathing fixture is a key element of the room that acts as a visual centerpiece, but it's also important to your quality of life. That's why a bathtub or shower replacement can transform the room into the oasis of your dreams, all without the hassles of a traditional bathroom renovation. What's more, the right company can even help you customize your new tub or shower to suit your style preferences down to the last detail.
Update Your Bathroom With Help From Jacuzzi Bath Remodel
If you're ready to bring your bathroom up to date and turn it into the luxurious retreat you've always wanted, Jacuzzi Bath Remodel is the company to turn to for help. We offer top-of-the-line Jacuzzi® bathtubs and showers that can be personalized with your choice of:
Wall colors, patterns, and textures
Bathtub styles
Safety and accessibility features like grab bars and seating
Low- and no-threshold shower options
No matter how you choose to customize your new Jacuzzi® bathtub or shower, you can count on it to be as durable and low maintenance as it is gorgeous. You won't have to worry about a messy or time-consuming renovation, either, as our dealers can have your new bath or shower installed in as little as one day.
To learn more about the Jacuzzi® bathtubs and showers we offer and discuss more ideas for modernizing your bathroom, contact the team at Jacuzzi Bath Remodel today.