Explore These Jacuzzi® Shower Makeover Ideas for Your Bathroom Upgrade
Oct 19, 2022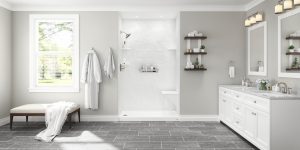 Are you ready to take your bathroom to a new level with a shower makeover? If so, a brand-new Jacuzzi® shower is just the ticket. These innovative shower systems are crafted from premium materials that make them exceptionally durable and easy to maintain, but they are also completely customizable. When you invest in a new shower from the Signature™ shower collection by Jacuzzi®, you'll have the opportunity to upgrade your bathroom with a fixture that meets your every want and need. If you're looking for some ideas to get you started on your Jacuzzi® shower makeover, Jacuzzi Bath Remodel has a few for you here:
1. Go Bold With Color
Having a new Jacuzzi® shower installed is your chance to transform your bathroom from boring to bold, and selecting a rich color is the perfect place to start. Whether you prefer the modern sleekness of dark shower walls or would like something a little lighter, you can create a unique and personalized look by choosing the tone that suits you best.
2. Pick Your Pattern
Color isn't the only way you can customize your new Jacuzzi® shower, as a makeover wouldn't be complete without a pattern or texture that elevates the look of the entire space. From marble to matte and everything in between, picking the right pattern for your wall surround can make all the difference.
3. Choose Your Features
A shower makeover is about more than just aesthetic elements, as it's a chance to redesign your space to be as functional as it is beautiful. Jacuzzi® shower systems are available with an array of additional features, including:
Moveable and stationary shower seats
ADA-compliant grab bars
Low- and no-threshold options
Turn to the Jacuzzi® Shower Makeover Experts
Ready to design your new Jacuzzi® shower? If so, it's time to give the experts at Jacuzzi Bath Remodel a call. Contact us today to discuss more shower makeover ideas and get your project started.