Can a Jacuzzi® Tub Have a Shower?
May 04, 2022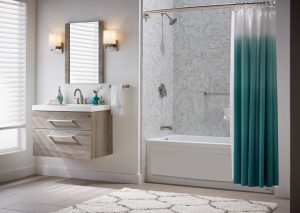 Is it time for a new bath system at your home? If so, you're probably weighing the pros and cons of different bath and shower systems while trying to decide on the right option for your lifestyle and needs. Bathtubs, especially Jacuzzi® tubs with hydrotherapy features, are perfect for a luxurious soak that massages away all your pains and troubles. Showers, on the other hand, are great for anyone who struggles with climbing into a bathtub or who enjoys the ease of simply stepping into the steamy shower whenever they need.
If you're wondering if there's something that combines the best of both worlds, you might like to know that a Jacuzzi® tub can have a shower combined right along with it. Indeed, you can absolutely enjoy the luxury of a Jacuzzi® bathtub and all the hydrotherapeutic benefits alongside the ease of a shower system with a bathtub shower combo.
What Is a Bathtub Shower Combo?
A bathtub shower combo is likely what you picture in your mind when you think of the bathing fixture in a typical home bathroom. The base comprises of a tub that can be easily filled from the tap, while the showerhead above allows the user to take a standing shower if they prefer.
However, the fact that bathtub shower combos are common doesn't mean that they have to be basic or boring. When you choose to partner with a bathroom remodeling company like Jacuzzi Bath Remodel, you can customize virtually every element of your new Jacuzzi® tub to ensure it meets all your wants and needs. Choose from a variety of:
Shower wall colors, patterns, and textures
Bathtub styles
Showerhead options
How To Tell If a Jacuzzi® Tub or Shower Is Right For You
If you're still on the fence about which type of fixture to invest in even after knowing that a Jacuzzi® tub can indeed have a shower, don't worry. It really comes down to your personal preference, as there are major benefits to Jacuzzi® tubs, Jacuzzi® showers, and Jacuzzi® bathtub shower combos. When in doubt, though, you can always discuss your options with the experts at Jacuzzi Bath Remodel. We can help you wade through all your choices for bathtub and shower options, answer any questions you may have, and help you decide on the right one for you and your home.
Whichever option you go with, though, you can trust that all our Jacuzzi® products are built to last for the long run. The Jacuzzi® tubs and showers we offer are crafted from only the finest materials—including non-porous acrylic infused with silver ions—to ensure that they are as durable and easy to clean as they are gorgeous. If you're ready to learn more about these innovative systems or are ready to add one to your own home, get in touch with the team at Jacuzzi Bath Remodel. Contact us today to get started and prepare to transform the bathroom at your home.