Explore the Benefits of a Jacuzzi® Bathtub/Shower Combo
Dec 14, 2021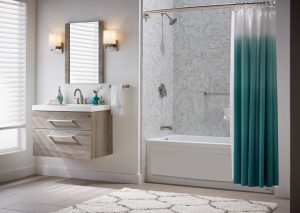 When you picture a bathroom, it's likely that the image you conjure in your mind features a bathtub/shower combo. These bathing fixtures provide the best of both worlds—the luxury of soaking it up in a cozy tub as well as the relaxing convenience of stepping into a steamy hot shower. For the ultimate experience when it comes to these systems, however, there's simply no better option than a Jacuzzi® bathtub/shower combo. If you're interested in investing in one for your own home, explore just a few of the benefits of these Jacuzzi® tub/ shower combos here:
Remarkable Durability
While a traditional tub/shower combo with walls made of tile or natural stone may fall victim to scratching, staining, or fading over time, a Jacuzzi® bathtub/shower combo won't. That's thanks to the durable acrylic they're constructed with, making them able to keep their good-as-new appearance for years to come.
Low Maintenance Requirements
If scrubbing stubborn grout lines and using harsh chemicals trying to keep your bath or shower clean is a chore you'd rather avoid, a Jacuzzi® bathtub/shower combination is just the solution you need. Crafted from nonporous acrylic that's infused with silver ions, these innovative systems are naturally resistant to the growth of mold, mildew, and bacteria. Along with helping to keep you and your family healthy, that also greatly reduces the amount of upkeep your bathtub/shower combo requires—a pretty tempting benefit for any homeowner.
Full Customizability
If you'd love to update the look of your bathroom but a full renovation is simply out of reach, a new Jacuzzi® bathtub/shower combination can still help you achieve the look you're after without all the hassles and steep costs. These systems are fully customizable, meaning you can choose from an array of aesthetic and functional features to create the relaxing oasis of your dreams. Choose from:
A Fast Installation
Another reason why so many homeowners opt for a Jacuzzi® bathtub/shower combination? The benefit of a fast installation. In fact, most installations can be completed in as little as one day, minimizing the interruptions to your home and routine and allowing you to enjoy your new bathtub/shower combo sooner than would be possible with a traditional bathroom remodel.
Warranty Protection
The name Jacuzzi Bath Remodel is synonymous with quality, and we stand behind that entirely. That's why we are proud to offer a limited lifetime warranty that protects against defects in both material and workmanship with all of our bathtub/shower combos and other products, giving you total peace of mind in your investment.
Experience the Benefits First Hand
When it comes to the benefits of a Jacuzzi® bathtub/shower combination, the list really does go on. However, the best way to learn about them is to experience them for yourself! If you're interested in improving the bathroom at your home with a new bathtub/shower combo built to suit your every want and need, it's time to give the experts at Jacuzzi Bath Remodel a call. Contact us today to get started.