How to Decorate Your Jacuzzi® Bathtub
Dec 15, 2022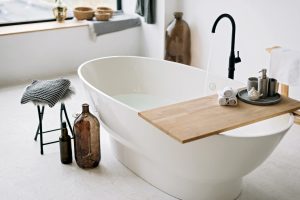 Whether you just purchased a Jacuzzi bathtub® or you're thinking about getting one installed at your home, you want it to function properly and work seamlessly with your bathroom décor. Fortunately, with Jacuzzi Bath Remodel, you can customize your new Jacuzzi® bathtub with a variety of features that will look great and stand the test of time. From traditional soakers with modern designs to jetted bathtubs in a multitude of experiences, you can count on us to engineer the perfect bathtub for your unique needs and preferences—and it will look stunning too.
Decorating Your Bathtub
No matter what you're looking to get out of your new Jacuzzi® bathtub, you can count on Jacuzzi Bath Remodel to bring your vision to life. We can enhance your bathtub with new walls in your choice of a variety of stylish colors, ranging from rich, bold colors to softer, natural hues. You can even choose from a collection of patterns and textures when it comes to your wall surrounds, and you can count on them to resist cracking, fading, and peeling over time. Plus, our wall surrounds are infused with silver ions that prevent bacteria, mold, and other microbes from growing and reproducing.
Accessories Galore
In addition to our range of colors, patterns, and textures, we can also increase the safety and accessibility of your bathtub without sacrificing style. If you're concerned about high tub walls, slippery floors, and hard-to-reach features, Jacuzzi Bath Remodel can alleviate your worries. With our top-of-the-line safety and accessibility features, you can enjoy the spa-like bathroom of your dreams without worrying about the health and well-being of you or your family members.
The Jacuzzi Bath Remodel Difference
When you partner with Jacuzzi Bath Remodel, you'll receive high-quality products and quick and effective installation services. When we install your new Jacuzzi® bathtub, you can expect:
A soothing bathing experience that could only be created by the originators of hydrotherapy
A range of style options and hydrotherapy experiences
A balance of ergonomics and power, designed to fit your body flawlessly
Sophisticated and imaginative designs you'll be sure to love for many years to come
Additionally, our highly trained and experienced team can install your new Jacuzzi® bathtub in as little as one day, with little disruption to your home. For further peace of mind, we offer a limited lifetime warranty that protects against defects in material and workmanship. You have nothing to lose and only an incredible new bathtub to gain when you partner with us.
Let's Get Started
If you're wondering how to decorate your Jacuzzi® bathtub, the sky is the limit when you partner with Jacuzzi Bath Remodel. The Jacuzzi® brand has a long-standing reputation for innovation, and we can't wait for you to experience it yourself. For more information about our incredible Jacuzzi® bathroom products and to connect with an authorized dealer in your area, contact us today. We look forward to working with you and answering any questions you may have along the way.