Jacuzzi® Bathroom Safety Products
May 04, 2022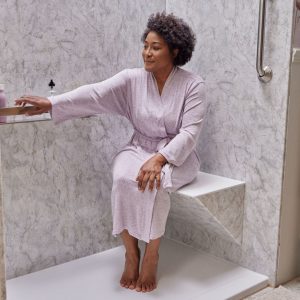 Considering all the slippery surfaces, potentially hard to step over tub walls, and other possible risk factors, the bathroom can easily be the most dangerous area of the home. This is especially true if you or any of the members of your household struggle with mobility, as features that could be no big deal to one person could be major health hazards for another. Thankfully, Jacuzzi®—a leader in bath and shower innovation—has created a full line of bathroom safety products that can put both your mind and body at ease.
Jacuzzi Bath Remodel is proud to carry these products and an array of solutions that can make the bathroom at your home a safer and more accessible space. These include:
Tub-to-Shower Conversions
At the top of the list for Jacuzzi® bathroom safety products you might want to consider is a tub-to-shower conversion. Traditional bathtubs have high tub walls that can be difficult to step over, as well as slippery floors that can put your safety at risk. A Jacuzzi® walk-in shower system, on the other hand, is a safer option thanks to:
Low- and no-threshold entry options
Flooring that's built with a slip-resistant texture
Easy-to-clean materials that don't require any rigorous scrubbing or bending over
The ability to add additional safety products
Bath/Shower Seating
For a truly safe and comfortable bathing experience, Jacuzzi Bath Remodel offers moveable or built-in seats that can be added to your Jacuzzi® bath or shower system. For a truly customizable experience, you can even choose a moveable shower head to be able to change positions from one side of the shower to the other easily along with moving your shower seat.
Grab Bars
Grab bars add stability wherever it is needed most, providing support when you have to get in or out of the tub or to reduce the risk of falling in the shower. Jacuzzi® safety products include grab bars that are ADA-compliant and ergonomically placed to allow for a more accessible bathroom that promotes relaxation.
Improve the Safety of Your Bathroom Without Sacrificing Style
When you partner with Jacuzzi Bath Remodel for your bathroom update, you can rest assured you won't have to sacrifice style for the sake of safety. That's because all the Jacuzzi® bath and shower products that we offer are fully customizable, allowing you to select from a variety of shower wall colors, patterns, and textures as well as bathtub and shower styles to create a finished look that elevates the appearance of the entire bathroom. What's more, Jacuzzi® products can also be built with hydrotherapeutic features that help soothe aching muscles and stimulate circulation. With so many spa jet options and opportunities to personalize aesthetic elements, the possibilities are virtually endless for your updated shower or tub.
If you're ready to improve the safety and accessibility of your home with any of our top-quality solutions, it's time to give the experts at Jacuzzi Bath Remodel a call. Contact us today to learn more about the Jacuzzi® products and customization options we offer.