How to Clean a Jetted Bathtub: What You Need to Know
Dec 15, 2022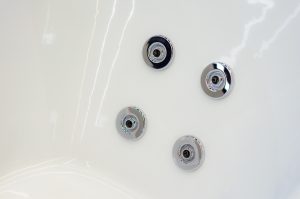 If you're the proud owner of a jetted bathtub, you'll already be familiar with the wealth of benefits that such a feature provides. However, whether you have one already or are starting to think about investing in one, knowing to clean your jetted bathtub can make all the difference. After all, these innovative bathing fixtures—including premium Jacuzzi® jetted bathtubs—differ from their soaking tub counterparts in that they use hydrotherapeutic jets which require a certain level of attention to keep clean.
Thanks to innovative engineering, keeping your jetted bathtub clean is easy. Here's all you need to do.
Cleaning Your Jacuzzi® Bathtub
To clean your jetted bathtub properly, you'll want to focus both on the surface area of the tub and shower walls as well as the jets, as each requires a different type of cleaning. If you have a Jacuzzi® bathtub, cleaning the bathtub surface is quite simple thanks to the nonporous acrylic material that Jacuzzi® showers, bathtubs, and wall surrounds are made from. This material is stain-resistant, requiring little more than the occasional wipe down with water and a mild soap to stay sparkling clean. If your jetted bathtub is from a different brand, though, your walls and surfaces may require a more intense cleaning to remain free from mildew and buildup.
Your bathtub jets, on the other hand, can be cleaned by:
Wiping away any visible debris or buildup from the jets with a damp sponge or cloth
Filling the tub with hot water (and cleaning agents if necessary)
Turning on the jets to clear them out
Draining the bathtub and wiping it down
Repeating the process and scrubbing the air-intake cover as well
Rinse and dry
You can also purchase specific cleaning products designed for use in bathtub jets—such as  Systems Clean™—to ensure you get the best possible clean.
Tips for Maintaining Your Jetted Bathtub
Cleaning your jetted bathtub is important, as regular maintenance can help prevent debris from building up and keep your tub in good condition for a fresh, clean use whenever you're ready for a good soak. To maintain your jetted bathtub, you should:
Clean your bathtub regularly by wiping it down and using mild cleaners if necessary
Deep clean your bathtub and bathtub jets at least four to five times a year, or once a month if you use your bathtub often
If you don't have a Jacuzzi® jetted bathtub, consider investing in one of these top-of-the-line systems over another brand for their antimicrobial protection and low maintenance requirements
Jacuzzi® bathtubs from Jacuzzi Bath Remodel are also protected against defects in material and workmanship by a limited lifetime warranty, providing you with the complete peace of mind you need that your bathtub is exceptionally crafted and built to last.
Learn More About Cleaning Your Jacuzzi® Jetted Bathtub
If you'd like to learn more about the benefits of Jacuzzi® jetted bathtubs and how easy it is to clean them, all you need to do is get in touch with the team at Jacuzzi Bath Remodel. Contact us today to get more information, or to schedule a consultation for adding a Jacuzzi® bathtub to your own home.