What Are the Black Flakes Coming Out of My Jacuzzi® Bathtub Jets?
May 04, 2022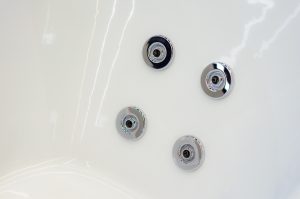 If you're the owner of a luxurious Jacuzzi® bathtub, you'll already be familiar with the many benefits these innovative jetted bathtubs provide. However, even the best bathtubs on the market need a bit of TLC once in a while to keep them sparkling clean and ready to relax in at any time. While Jacuzzi® products are known for being remarkably easy to maintain, one not so relaxing sight you may see anyway are black flakes that come out of the jets in your tub. If you're wondering what exactly those flakes are—and how you can keep your Jacuzzi® bathtub clear of them—you've come to the right place.
Understanding Bathtub Buildup
Those black flakes that you may have seen coming out of your Jacuzzi® bathtub jets are likely made of some combination of mold and mildew, bacteria from bathing, soap and oil residue, or other materials that have been left behind in the piping of the tub when it was last used. Essentially, while the tub itself is not so susceptible to bacterial growth, buildup can find its way into the pipes where it can grow with the water that has been left behind.
These black flakes are nothing to be too worried about, though, and can easily be prevented or cleaned out without you having to put in too much effort in the process.
How to Clean Out Your Jacuzzi® Bathtub Jets
Now to the nitty-gritty part: cleaning out those black flakes from your Jacuzzi® bathtub jets. There are some cleaning solutions that are designed specifically for jetted bathtubs, but if you want to try a DIY approach you can:
Fill your tub with hot water and make sure it is filled to at least a couple inches above the highest jet
Add distilled white vinegar (a half-gallon is usually the recommended amount)
Run the jets for about 15 minutes
Drain the tub before refilling it with cold water
Run the jets again for about 10 minutes
Drain the tub one more time before gently wiping it clean with a cloth
How to Prevent Buildup In Your Jacuzzi® Bathtub Jets
When it comes to keeping black flakes out of your Jacuzzi® bathtub jets, prevention is the best medicine. Regular cleaning—preferably before and after each use, but at the least every month—is the best way to do that, as is making sure you run the jets regularly to keep anything from collecting in the pipes. When in doubt, though, call in the experts at Jacuzzi Bath Remodel for some expert advice.
We know Jacuzzi® bathtubs inside and out, so whether you need some tips on maintaining your current tub or want to add a brand-new one to your home, we're the company to call for it all. So, now that you know what those black flakes coming out of you Jacuzzi® bathtub are, how to clean them out, and how to keep them from returning, you can get back to enjoying your tub and all its hydrotherapeutic benefits without worrying. And for anything else you may need to know about bathroom remodeling or how you can get the best bathtub for your home, contact Jacuzzi Bath Remodel today.