How Often Should You Clean Your Jacuzzi® Bathtub Jets?
Sep 06, 2022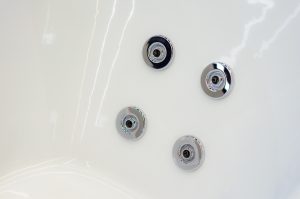 If you're lucky enough to be the owner of a premium Jacuzzi® bathtub, you'll already understand what makes these innovative tub systems so desirable. Along with being beautiful, these baths utilize the power of hydrotherapy to provide maximum relaxation. The key element that differentiates Jacuzzi® bathtubs from the rest of the pack is the jets they are built with, which help to promote optimal muscle soothing and stress relief by targeting specific areas of the body.
These jets may be luxurious, but like most good things in life, they require just a bit of maintenance in the form of some cleaning. With that said, exactly how often should you clean your Jacuzzi® bathtub jets? The answer is: It depends. In general, your Jacuzzi® bathtub jets should be cleaned at least a few times a year, or once a month if you're using it regularly. So, let's take a dive into the basics of what you need to know about cleaning your Jacuzzi® bathtub and how often you should be doing it.
How to Clean Your Jacuzzi® Bathtub Jets
If reading this has you thinking back to the last time you cleaned your Jacuzzi® bathtub jets and running to the store for cleaning supplies because it's been so long, don't worry. You won't need a lot in the way of harsh chemicals or scrubbing agents to keep your jets clean and in good shape—in fact, many decent solutions exist right within your kitchen and bathroom cabinets. You can make use of ingredients like baking soda, vinegar, dishwashing liquid, and even a toothbrush to clean out your Jacuzzi® bathtub jets. Or, you can choose to buy a solution designed specifically for this application. Either way, it's a simple process that involves flushing your tub, turning off the valves, flushing again, then deep cleaning the tub and jets to make sure any remaining gunk that has been loosened is gone for good.
Why Is Cleaning Your Jacuzzi® Bathtub Jets Important?
Ever noticed a bit of black stuff coming out of your Jacuzzi® bathtub jets? These flakes of dark debris are typically made from some combination of mold, mildew, and other unpleasant buildup—all kinds of things that are anything but what you want when trying to enjoy a relaxing soak. Cleaning your tub jets regularly can prevent these black flakes from forming in the first place, as buildup won't have a chance to collect.
To keep your Jacuzzi® bathtub jets clean, prevention is also key. Avoid using loads of bath oils or other products loaded with ingredients that could easily leave behind a greasy residue that will be difficult to clean later. Instead, opt for products created by the manufacturer themselves, or avoid these add-ons altogether and simply enjoy the beauty of hydrotherapy at its finest without the need for salts and scrubs galore.
Jacuzzi Bath Remodel: The Company to Trust for All Your Jacuzzi® Bathtub Needs
If you would like to learn more about how often you should be cleaning your Jacuzzi® bathtub jets, or if you're ready to invest in one for your own home, Jacuzzi Bath Remodel is the company to call for help. Contact us today to get started.