Can You Use Epsom Salt in a Jacuzzi® Bathtub?
Sep 06, 2022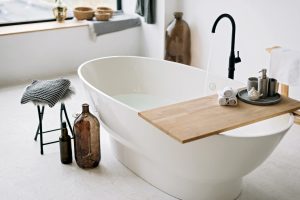 When it comes to relaxation, few things do the trick quite like a long, luxurious soak in the bath—especially if that bath happens to involve a Jacuzzi® bathtub. These innovative tubs come in many different styles, including ones that are built with hydrotherapeutic jet systems which work to target specific muscle groups to promote optimal healing and stress relief. However, there's something else that can help soothe sore muscles and increase relaxation: Epsom salts. Adding Epsom salt to a bath is nothing new, as people have been raving about the benefits of doing so for centuries.
So, with notable benefits belonging to both products, you may be wondering if you can combine the two for truly optimized relaxation. If you've asked yourself the question of whether you can use Epsom salt in your Jacuzzi® bathtub, you've come to the right place. However, the answer isn't as simple as it may seem, which is why we've laid everything out for you here.
Using Epsom Salt in a Jacuzzi® Bathtub: What You Need to Know
If you own a non-jetted Jacuzzi® bathtub, feel free to use Epsom salts as you please. These ultra-durable tubs can take on plenty of use, but not all jetted varieties can be paired with salts and other bath products. So, while you can indeed use Epsom salt in some Jacuzzi® bathtubs, you can't simply pick up any bag you find at your nearest convenience store and add it into your next bath without a second thought. There are a few reasons why doing so isn't recommended:
Epsom salts can affect the acidity of the water in your Jacuzzi® bathtub, and this higher acidic level can in turn cause damage to the pump, seals, and other tub parts.
Salt that has not dissolved properly can harden, leading to buildup in the jets and possibly even pipe corrosion.
Because of alterations to the water chemistry that occur when Epsom salt is added, irritation to the skin can happen.
Using the wrong type of Epsom salt can lead to considerably more damage than it does good, making the momentary relaxing benefits hardly worth the cost—especially when it comes to paying for potential repairs to the Jacuzzi® bathtub you love so much.
Your Guide to Finding the Right Epsom Salt for Your Jacuzzi® Bathtub
However, all of this is not to say that you can never use Epsom salt in your bath. It simply comes down to the product you purchase, which is why it's always recommended to buy manufacturer-approved Epsom salts if you still want to reap the rewards of both hydrotherapy and a salt bath.
Thankfully, you can find products designed specifically for use in a Jacuzzi® bathtub (for soaker and some other models), and they're made by the Jacuzzi® brand so you can rely on their quality right from the very start. These Epsom salts are made with users in mind, providing maximum healing and muscle-soothing benefits while not causing damage to your skin or your tub.
Learn More About Jacuzzi® Bathtubs From Jacuzzi Bath Remodel
Whether you have additional questions about using Epsom salt in a Jacuzzi® bathtub or would like to invest in a hydrotherapeutic tub for yourself, Jacuzzi Bath Remodel can help. We proudly offer premium products crafted by the renowned Jacuzzi® brand, including their top-of-the-line bathtubs that come in a multitude of styles for you to choose from. To learn more, get in touch with our friendly and helpful team of Jacuzzi® bathtub specialists today.