Explore the Possibilities of Custom Jacuzzi® Bathrooms
Mar 02, 2022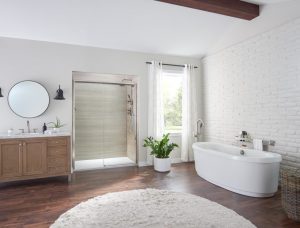 Your bathroom is one of the most important—and most used—rooms within your home, so shouldn't it be able to meet all your wants and needs? At Jacuzzi Bath Remodel, we think so. That's why we make creating custom Jacuzzi® bathrooms easier for homeowners across the nation, and it all starts with the premium Jacuzzi® bath and shower products we offer. The possibilities are practically endless when you work with us to create your custom bathroom space, and the quality of the products we provide means that you'll be able to enjoy the results for many years to come.
Jacuzzi® Bathrooms: Where Style & Functionality Meet
When you picture your dream bathroom, what does it look like? There's a good chance that the first thing that comes to your mind is a luxurious bathtub or shower that elevates the appearance of your space as well as how you use it. Whether you prefer the classic elegance and luxury of a Jacuzzi® bathtub or the sleek, modern appeal of a walk-in shower, your custom Jacuzzi® bathroom is your canvas when it comes to crafting the bathroom you've always wanted. At Jacuzzi Bath Remodel, we can turn your vision into a reality with a custom new:
Jacuzzi® Bathtub
Bathtubs sure have come a long way over time, and the Jacuzzi® brand was at the forefront of the bathing revolution that got us to the luxurious systems we're all familiar with today. Now, Jacuzzi® baths are as customizable as they come. You can enjoy the effects of decades of innovation right from your own home with a new tub that is:
Available in your choice of style, installation type, hydrotherapy experience option, and size
Ergonomically designed to fit the body perfectly and promote total relaxation
Crafted from a premium acrylic material that is infused with silver ions to make cleaning an absolute breeze
Stain-resistant and built to look as good as the day of its installation for many years to come
Fully customizable with an array of aesthetic and functional elements to choose from
Jacuzzi® Shower
If the ease of stepping into a steamy shower at the end of a long day is a little more your style, a walk-in shower is sure to be the right centerpiece for your custom Jacuzzi® bathroom. These top-of-the-line shower systems can take your bathroom to the next level, transforming it into the oasis you've always dreamed of thank to the outstanding qualities of these products. The Signature™ shower collection by Jacuzzi® leads the industry when it comes to innovation and performance, especially when you consider that these showers are:
Low Maintenance – With a silver-ion embedded antimicrobial surface layer built in, these showers are protected against the growth of mold, mildew, and bacteria just like their Jacuzzi® bathtub counterparts.
Durable – Constructed with a high-density PVC core and two layers of aluminum backing, Jacuzzi® showers are resistant to scratching, impacts, and even fading from UV exposure. This means you won't need to worry about your shower fading, cracking, or showing other signs of wear even after years of regular use.
Gorgeous – Choose from an array of attractive color, pattern, and texture options for your new shower to create a look that elevates the appearance of your whole bathroom.
Safe and accessible – Jacuzzi® showers are available in low- and no-threshold options to make entering the shower as easy as possible, and they can also be customized with ADA-compliant grab bars, slip-resistant flooring, moveable shower seats, and other accessories for maximum safety and peace of mind.
Get Started on Your Custom Jacuzzi® Bathroom Project
To learn more about the possibilities for your custom Jacuzzi® bathroom and discuss all your options in detail, contact the experts at Jacuzzi Bath Remodel today.