Achieve the Perfect Look With Our Bathroom Remodeling Options in Cleveland, OH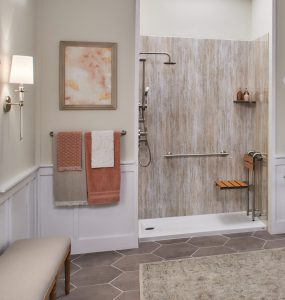 At Jacuzzi Bath Remodel, we help you begin your bathroom remodeling journey, championing the transformation of mundane bathrooms into rejuvenating spaces. Let us infuse your bathroom with a breath of fresh air, ensuring it's not just functional, but also a serene sanctuary.
Bathtub Installation
Our exceptional bathtub installation ensures you enjoy a spa-like experience in your home. The beautifully designed Jacuzzi® bathtubs offer not just exceptional design, but also anti-microbial protection, ensuring your tub stays clean and fresh.
Shower Installation
Shower installation with us is a straightforward and hassle-free process. Our showers are low maintenance, so you can spend less time on maintenance and more time on relaxing.
Bathtub-to-Shower Conversions
Consider our proficient bathtub-to-shower conversions if you prefer showers to baths. Even in a small bath remodel, this conversion is perfectly suitable, making your space more functional and convenient.
Local Bathroom Remodeler
As your trusted local bathroom remodeler, we guarantee a stress-free remodel with exquisite results. Our commitment to customer satisfaction makes us the preferred choice in Cleveland, OH.
Bath Remodel Contractors
As one of the leading bath remodel contractors serving Cleveland, OH, we deliver unmatched quality and service. Our installations and materials are backed by a limited lifetime warranty*, ensuring your new bathroom stands the test of time.
FAQs
We've answered thousands of customer questions over the years, including:
How Long Does It Take to Complete a Bath Remodel, on Average?
In most cases, a bathroom renovation can be completed in as little as one day.
What Is the Hardest Part of Remodeling a Bathroom?
The most challenging aspect of bathroom remodeling is ensuring all components, like plumbing and electrical, are correctly installed and functional.
Are Bathtub-to-Shower Conversions Suitable for Small Bathrooms?
Absolutely, bathtub-to-shower conversions can optimize the space in small bathrooms, making them more practical and spacious.
Why You Should Work With Jacuzzi Bath Remodel
Allow your Cleveland, OH, home to shine with a newly remodeled bathroom that echoes beauty, comfort, and functionality. With Jacuzzi Bath Remodel, your dream bathroom is within reach. For further inquiries or to begin your bathroom remodeling project, contact us today. Your new dream bathroom is just a click away.
*Disclaimer: Installation and some warranty terms vary by dealer. Contact your local Jacuzzi Bath Remodel dealer for details.