Why You Should Fill a Bathtub With Water During a Storm
Feb 01, 2022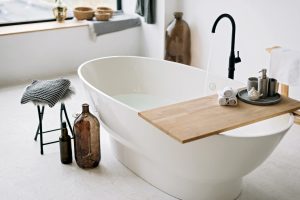 Storms can come with plenty of unexpected surprises, from power outages to broken windows and even a lack of running water. Because of this, it's always best to be prepared, but that preparedness doesn't always look like picking up extra batteries for your flashlights and stocking up on pantry-safe foods. If you've ever wondered why people fill up their bathtubs with water before a storm, for example, you might be surprised to learn that this is actually a recommended preparation. So, whether you have a Jacuzzi® bathtub or another model, it might be a good idea for you to fill your tub with water next time Mother Nature throws a curveball. Let's discuss why:
Reasons to Fill Your Bathtub With Water Before a Storm
While it might not be the first thing on your mind when you hear that a strong storm is on its way, filling your Jacuzzi® tub with water is still a smart move to make in this situation. Water can often become compromised during a hurricane or storm, making it either undrinkable or stopping it from flowing from your taps entirely. By filling your bathtub, you will have access to water that can be used for many purposes in case your access to water is affected during the storm. It can be used for:
Drinking – If you have access to a water purification filter or device, this would be best to use, but the bathwater can be a last resort if all other potable water in the house has already been consumed. You can also buy plastic bags to line the tub before filling it with water to keep it for drinking, as the National Weather Service recommends.
Washing – Cups, buckets, or other basins can be used to carry water from the tub to a sink for you and your family to wash your hands, bodies, and dishes as necessary.
Flushing the toilet – If water isn't flowing from your sinks, it won't be able to work in your toilet either. However, a household hack in these situations is to pour a hefty amount of water directly into the toilet to force a flush.
In addition, it may also be a good idea to fill your washing machine (if it opens from the top) and pick up extra gallons of drinking water if possible. If your home gets water from a private well, filling your bathtub is especially important during a storm, as the well is likely to become contaminated after the damage has been done. However, this action is recommended for all households in preparation for a storm, with extra caution advised for those who have small children (a deep, standing basin of water can become a drowning hazard for infants and young children).
Filling Your Jacuzzi® Bathtub
If you have a Jacuzzi® bathtub at your home—or if you're interested in adding one—and have questions about why and how you should fill your tub during the next storm, give the team at Jacuzzi Bath Remodel a call. Contact us today to learn more about the many uses and benefits of Jacuzzi® tubs.