What Is a Jacuzzi Shower?
Sep 14, 2022
What Is a Jacuzzi® Shower?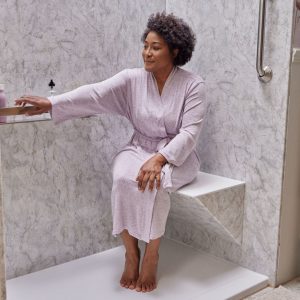 If you're wondering what a Jacuzzi® shower is, you've come to the right place! Maybe you've heard about the benefits of Jacuzzi® bathtubs, but prefer to take showers and want to know whether or not a Jacuzzi® shower is a smart investment for your home. Fortunately, the expert team at Jacuzzi Bath Remodel can answer all of your questions. Our Jacuzzi® shower systems offer a plethora of benefits and will make an incredible addition to your residence.
The Luxurious Benefits of Jacuzzi® Showers
To provide you with the most comfortable and relaxing experience possible, Jacuzzi Bath Remodel proudly offers Jacuzzi® Premium Shower Walls. Built with Tri-Tek® composite materials, these panels look fantastic and will stand the test of time.
Not only will you be able to select from a variety of attractive colors and textures, but your panels will be custom-fit to your existing shower space. Other advantages include:
Ease of maintenance – Made with an antimicrobial surface layer with embedded silver ions that protect against the growth of mold, mildew, and harmful bacteria, Jacuzzi® shower systems are extremely easy to clean and maintain.
Durability – Built using PVC core and two layers of aluminum backing, your Jacuzzi® shower is less likely to fade, crack, or show signs of wear and tear over the years.
Customization – Here at Jacuzzi Bath Remodel, we can help you design the Jacuzzi® shower of your dreams. Choose from a variety of accessories, including grab bars, shower seats, low- and no-threshold options, and more.
Easy installation – Our expert technicians have mastered the installation process and can install your new shower in as little as one day.
Peace of mind – We stand behind the craftsmanship and quality of our showers by protecting them with a limited lifetime warranty against defects in material and workmanship.
Your New Shower Made Easy
With Jacuzzi Bath Remodel, you get all of the benefits listed above without going through the hassle of a full bathroom remodel. In fact, our process is as simple as one-two-three!
Step one – Get a free quote. Tell us what you want to get out of your brand-new Jacuzzi® shower, and we'll give you a down-to-the-penny quote.
Step two – Schedule your installation. Our expert team will work fast, installing your new shower at a day and time that works best for you.
Step three – Enjoy your new wet area. All that's left to do is take a relaxing, hot shower. It doesn't get better than that!
Let's Get Started
Designing the bathroom of your dreams is easy when you partner with the highly trained and experienced team at Jacuzzi Bath Remodel. Our Jacuzzi® shower systems offer the style, durability, and functionality you've been looking for. For more information about all of the incredible Jacuzzi® shower products we offer and to connect with an authorized dealer in your area, contact Jacuzzi Bath Remodel today. We look forward to working with you, answering any questions you may have along the way, and designing the perfect Jacuzzi® shower for your home that will stand the test of time.