Simple Ways to Improve Bathroom Safety for Seniors
May 04, 2021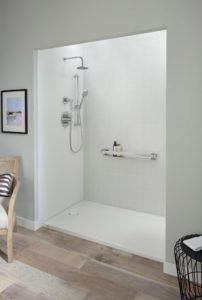 In our experience, bathroom safety is a top concern for homeowners—particularly those with limited mobility or who are planning to age in place. But, believe it or not, improving bathroom safety doesn't have to a drawn-out, laborious process! There are numerous ways to enhance safety in and around the bathroom, and not all of them require a full-blown makeover. Here are some simple ways to improve bathroom safety for everyone in your home:
Keep the Bathroom Clean & Clear of Mess
Slip-and-fall injuries are among the most common bathroom-related accidents. It's not a surprising statistic, since these rooms are small and their surfaces are slippery when wet. The solution: Keep the space clean. This not only includes picking up strewn clothes and towels from the bathroom floor, but it also involves keeping mildew and mold at bay in the bath/shower—this slippery growth thrives in the temperate climate of most bathrooms.
Install Safety & Accessibility Accessories
Accessibility accessories can make any space safer for those living with physical challenges. In the bathroom, these accessories typically include grab bars, handrails, non-slip mats, and shower seats.
Improve Bathroom Lighting & Storage
While investing in accessibility accessories for your bathroom, add new lighting and organization bins to your shopping list. Improving bathroom lighting and storage is a great way to enhance the overall safety of the space, as it makes things easier to see and reach.
Invest in a Tub-to-Shower Conversion
If you have a small bathroom and prefer to shower, consider getting rid of your bathtub shower combo with a tub-to-shower conversion. This process is designed to make accessing your bathroom easier, replacing your old unit with a standalone shower. A walk-in shower installation is the safer choice for seniors with mobility problems, as it's a one-step bathroom remodeling process that helps prevent falls with a low-entry or no-entry threshold.
Don't be tempted to skimp on bathroom safety upgrades! Aging homeowners should be able to safely move about in their homes and shower and bathe independently. If you're ready to enjoy your bathroom again, contact the Jacuzzi® Bath Remodel team today to learn more about the bathroom safety options available with Jacuzzi® products. We'll connect with a certified contractor in your area!