Revitalize Your Bathroom: Inspiring Jacuzzi Bath Remodel Ideas and Designs
Jul 10, 2023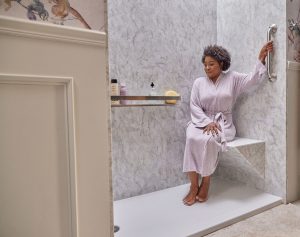 Ready to turn your bathroom into a personal haven? Here at Jacuzzi Bath Remodel, we believe your bathroom should be a sanctuary, a place where you can retreat, unwind, and recharge. Imagine transforming your bathroom into that spa-like oasis, with premium designs tailored to your personal taste.
Elevate Your Space With Personalized Designs
Every home is unique, just like every homeowner. We offer various design options to fit your personal style. Whether your preference leans towards a classic elegance or a sleek modern vibe, our range of premium Jacuzzi® bathtubs and showers will perfectly cater to your aesthetic needs.
Our baths and shower wall surrounds come in a plethora of colors and textures, and can be fitted with shower heads, faucets, and other accessories in a variety of finishes. You can also add shower caddies, shelves, and seating to further personalize your bathroom.
Farm Design
Picture the comfort of a countryside spa in the comfort of your own home. Our Farm design will bring warmth and a sense of tranquility to your bathroom.
Urban Design
If you're looking for a more contemporary approach, our Urban design offers clean lines and a minimalist aesthetic for a sophisticated feel.
Canyon Design
For those who enjoy nature-inspired elements, the Canyon design incorporates earthy tones and textures to recreate the soothing ambiance of a natural retreat.
Safety and Comfort, Hand in Hand
At Jacuzzi Bath Remodel, your wellbeing is our top priority. Our bath remodel designs ensure a comfortable, safe, and stylish bathing experience. Enjoy the convenience of barrier-free showers, safety grab bars, and foot pedestals, all tailored to your needs.
Maintenance? We Make it Easy
We understand that your relaxation time is precious. Hence, we design our products to require minimal cleaning. Our showers, bathtubs, and wall surrounds are made from durable, stain-resistant acrylic, making them exceptionally easy to clean. Plus, our shower walls are infused with silver ions that keep bacteria, mildew, and mold at bay.
Installation: Simple, Speedy, and Stress-Free
Experience the Jacuzzi Bath Remodel difference. We take your vision from initial consultation to a dream bathroom without any hassle. Our expert installers, authorized Jacuzzi Bath Remodel dealers, can have your new personalized Jacuzzi® bathtub or shower installed in as little as one day. At the end of the day, you can sink into your new bath, listen to the hum of the jets, and let the warm water soothe your muscles.
Affordable Premium Products Within Your Reach
Creating your dream bathroom shouldn't mean breaking the bank. We ensure that our Jacuzzi Bath Remodel solutions are affordable without compromising on quality. Your local authorized Jacuzzi Bath Remodel expert will install a new bathtub or shower that fits comfortably within your budget.
Choose Jacuzzi Bath Remodel for Your New Bathroom Sanctuary
Our Jacuzzi® bathtubs and showers, the result of over 65 years of advanced hydrotherapy engineering, are designed to offer both aesthetic appeal and unparalleled performance. With the right design and features, your bathroom can become more than just a functional space. It can be a retreat, a place where you can unwind and take care of your wellbeing.</p
Your dream bathroom begins here. Transform your space into a spa-like sanctuary with Jacuzzi Bath Remodel. Let's create your personal oasis together—contact us today to get started.