Maximizing Space and Functionality: Jacuzzi Bath Remodel Ideas for Small Bathrooms
Jul 10, 2023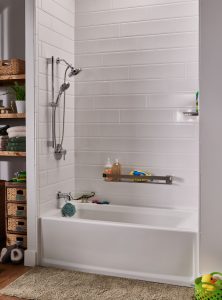 Every dream home deserves a dream bathroom, no matter the size. And when it comes to small bathrooms, they can be just as crucial to your home's livability as your en suite. Remodeling such spaces requires a keen eye for design and functionality. That's where we at Jacuzzi Bath Remodel come in, helping you elevate your bathroom and transform it into a sanctuary of wellbeing and style.
Designs to Fit Your Space
Even a compact bathroom can be the perfect canvas for a breathtaking Jacuzzi® bathtub. Our innovative designs, a result of decades of hydrotherapy engineering leadership, are ideal for your space. You might choose a classic design or prefer something more modern. Regardless of your style, we have a solution that will fit perfectly, turning your small bathroom into a spa-like sanctuary.
Customization Options
Every bathroom remodel can be personalized to your unique tastes. From the choice of fixtures and accessories to selecting the color and finish of your new bathtub or shower, we offer a wide range of customization options. This allows you to truly make your new bathroom a reflection of your personal style.
Jacuzzi® bathtubs are not just beautiful; they are meticulously crafted to support mental health and optimal wellbeing. Listen to the hum of our premium jets and feel the soothing tingle on your skin as you enjoy a personalized hydromassage experience.
Comfort and Safety in Compact Settings
Turning a small bathroom into a sanctuary doesn't mean compromising on safety or comfort. With our products, you can enjoy comfort, safety, and style all in one.
Our barrier-free showers offer convenience in a compact setting and reduce the danger of falling.
Safety grab bars, foot pedestals, built-in seating, and more accessories are available to ensure a stylish, comfortable, and safe bathing experience.
All our designs are committed to promoting wellbeing, focusing on mental benefits and stress relief, making your time in the bath both rejuvenating and relaxing.
Energy Efficiency and Sustainability
Along with our commitment to wellbeing, we care about the wellbeing of our planet. Our products are designed with energy efficiency in mind. From our water-saving showers to our high-efficiency bathtubs, we ensure that our products are good for both you and the environment.
Stress-free Installation and Maintenance
Remodeling your bathroom should be a stress-free process. Here's a snapshot of our services:
Our authorized Jacuzzi Bath Remodel dealers can install your new bathtub or shower, often in as little as one day. That way, your household is only minimally disrupted.
Our products are made from long-lasting, stain-resistant acrylic, infused with silver ions that protect your bath from mold, mildew, and stains. This makes them exceptionally easy to clean. Spend less time cleaning and more time relaxing in your new spa-like bathroom.
We believe everyone deserves a bathroom that supports their wellbeing without breaking the bank. Our authorized Jacuzzi Bath Remodel experts will install a new bathtub or shower for a price that fits your budget. With us, you can get the bath or shower of your dreams, within your budget.
A small bathroom doesn't require small dreams. Let us help you create the bathroom of your dreams, a place that supports your wellbeing, expresses your style, and maximizes both space and functionality. Your dream bathroom begins here with Jacuzzi Bath Remodel. Contact us today to get started.