Jacuzzi Bathtub Tile Ideas
Mar 21, 2023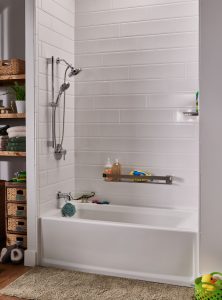 Excited about finally investing in a Jacuzzi® bathtub? Have you given any thought to what you would like to do with your old wall surround? Many homeowners choose to update their wall surround along with switching out an old bathing apparatus, but there are so many options on the market that it can be hard to find the perfect product for your needs. You can learn a little bit about tile options below.
Tile Options to Suit Your New Jacuzzi® Bathtub
There are several different kinds of tile used for bathroom wall surrounds. Some of the most common kinds include natural stone (usually quartz, granite, or marble), ceramic, porcelain, and glass. They all come in a variety of different colors and textures and have different pros and cons. For example, glass is water-resistant and easy to clean, but can look a bit cheap or outdated. Glazed ceramic is affordable and slip-resistant but can be prone to cracking. Porcelain is denser and more durable than ceramic but comes with a higher price tag. No matter what kind of tile you choose, it will likely be installed using grout. Grout stains easily, attracts mildew, and is an overall pain to keep clean.
Looking for Something Better Than Tile?
If you're looking for something durable and low maintenance that will flatter your new Jacuzzi® bathtub like nothing else, ask your Jacuzzi Bath Remodel dealer about Jacuzzi® acrylic wall panels. This product is cost effective and has the added benefit of silver ions for built-in antimicrobial protection. At Jacuzzi Bath Remodel, you'll find an endless assortment of designer wall surrounds to personalize your bathing sanctuary. Get in touch today to start creating the bathroom of your dreams.