Eco-Friendly Bathroom Remodel
Nov 01, 2023
Eco-Friendly Bath Remodel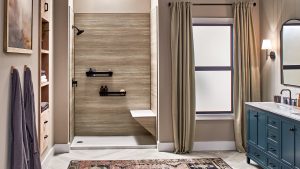 Imagine embarking on a bath remodel project that not only revitalizes the look of your bathroom but also makes a significant positive contribution to our environment. At Jacuzzi Bath Remodel, we have dedicated ourselves to making sure that your new bathroom is not just a space of elegance and relaxation, but also a paradigm of eco-friendliness and sustainable design.
Embrace Green Bathroom Renovation
Embracing a green bathroom renovation means choosing Jacuzzi Bath Remodel for your eco-friendly bath remodel. You can do this by choosing Jacuzzi® bathtubs with energy-saving jet pumps, robust insulation, and sustainable circulation pumps to lower your carbon footprint. In addition, our Jacuzzi® products are crafted from low-maintenance materials, eliminating the need for harsh and harmful cleaning chemicals and further supporting your journey toward an environmentally friendly lifestyle.
Sustainable Bathroom Remodel for Long-Term Benefits
In your pursuit of a sustainable bathroom remodel, it's crucial to consider the benefits of replacing old and inefficient bathroom fixtures. These features not only help in conserving vital energy and water resources but also enhance your overall bathing experience. Replacing outdated and inefficient bathroom fixtures stands out as a pivotal step. These fixtures, built with old technologies, often consume excessive water and energy, contributing to environmental degradation and inflated utility bills.
Opt for an Eco-conscious Bath Design
An eco-conscious bath design goes a long way in fostering environmental health and reducing long-term costs. We guarantee lower energy consumption and enhanced durability under normal use of your Jacuzzi® shower or bathtub, culminating in a more sustainable and cost-efficient bathroom, that aligns with your eco-conscious objectives and offers unparalleled functionality and design.
The enduring quality and superior performance of our Jacuzzi® products are a testament to our unwavering dedication to eco-friendly principles. They are crafted with premium materials designed to withstand the test of time, assuring you of an investment that not only benefits you but also plays a significant role in global environmental preservation.
Prioritize Environmentally Friendly Bath Renovation
Make water conservation a priority in your environmentally friendly bath renovation. Opt for our Jacuzzi® products, which are meticulously designed to significantly lower water usage without compromising the functionality and comfort of your bathroom. Water-saving bathroom upgrades, including efficient showerheads and faucets, play a crucial role in achieving this objective, ensuring you play your part in conserving this invaluable resource.
In addition to our Jacuzzi® products, consider incorporating water-efficient sinks and dual-flush toilets into your bath remodel. A bathroom sink is one of the most frequently used fixtures, and opting for a design that minimizes water usage without sacrificing performance is paramount. Dual-flush toilets allow you to use less water for liquid waste and more water for solid waste.
These faucets optimize water pressure to prevent unnecessary water wastage, ensuring that every drop is utilized effectively. The same is true of dual-flush toilets, improving your overall water usage.
Ensure an Energy-Efficient Bathroom Remodel
An essential component of an energy-efficient bathroom remodel is ensuring top-notch heat retention. Our acrylic bathtubs exemplify this quality, retaining heat for extended periods and allowing you to enjoy a prolonged, comfortable bathing experience while actively saving energy and water.
Opting for our acrylic bathtubs and showers is a decision rooted in a dedication to robust performance, exceptional energy efficiency, and tangible contribution to environmental preservation. It's a choice that reflects a nuanced understanding of the vital importance of each element in creating a bathroom space that stands as a beacon of sustainability, comfort, and enduring quality. The tangible benefits, ranging from reduced energy and water consumption to enhanced bathing comfort, underscore the holistic value delivered by our bathtubs, solidifying their position as a pivotal element in the realm of energy-efficient bathroom remodels. When it comes to water-saving bathroom upgrades, Jacuzzi® baths and showers should be the first items on your home improvement list.
Aim for LEED-Certified Bathrooms
If your goal is a LEED-certified bathroom, demonstrating Leadership in Energy and Environmental Design, rest assured we have you covered. Jacuzzi Bath Remodel will guide you throughout the entire process, ensuring your newly remodeled bathroom aligns with the essential green building standards necessary for LEED certification.
FAQ
In our decades of leadership in the industry, we've answered thousands of questions from customers, including:
What Are the Primary Benefits of an Eco-Friendly Bathroom Remodel?
While there are numerous benefits of an eco-conscious bath design, these stand out above the rest:
Continuous and significant reduction in water and energy consumption
Marked decrease in utility bills
Enhanced home resale value
Active and meaningful contribution to environmental conservation
How Can I Reduce Water Consumption in My Bathroom During a Remodel?
Reducing the consumption of precious water is of paramount importance in your bath remodel, and you can make that happen with smart choices, including:
Opting for the installation of water-efficient fixtures
Choosing our Jacuzzi® products designed for maximum water efficiency
Incorporating a greywater system
Can I Achieve LEED Certification for My Bathroom Remodel, and What Does It Entail?
Yes, with our guidance your bathroom remodel will align with the stringent LEED green building standards. To achieve LEED certification, you must adhere to prerequisites, then earn points by addressing:
Carbon
Energy
Health
Indoor environmental air quality
Materials
Transportation
Waste
Water
What Are Some Tips for Maintaining the Eco-Friendly Aspects of My Remodeled Bathroom Over Time?
To maintain your eco-friendliness over time, you should:
Regularly inspect and maintain all fixtures
Continuously opt for sustainable and low-maintenance materials and products
Watch your overall water consumption
Use green cleaning products
Educate your family about your eco-friendly goals with new parameters about bathroom use
How Can I Make My Bathroom More Eco-Friendly During the Remodel?
To ensure your carbon footprint is reduced during your remodel, you need to:
Choose energy and water-saving fixtures and appliances
Utilize sustainable and energy-efficient lighting options
Incorporate recycled or sustainable materials
Opt for low-voc or no-voc paints and finishes
Let Jacuzzi Bath Remodel be your steadfast ally in achieving your dream of an eco-friendly bathroom. Our unwavering dedication to quality, sustainability, and customer satisfaction distinctively positions us as the ideal choice for your bath remodel project. Are you prepared for a profound bathroom transformation that not only meets global eco-friendly standards but also infuses your space with unmatched design and functionality? Don't delay this transformative journey. Contact us today and let's co-create a bathroom space that harmoniously blends beauty, functionality, and eco-consciousness into a seamless whole.