How Many Design Choices Do You Have?
Sep 01, 2023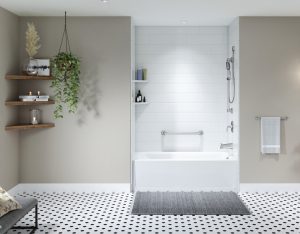 When it comes to upgrading your bathing space, it's easy to get overwhelmed by how many bathroom design options you have and find it difficult to choose. If you're looking for some inspiration to design your own bathroom remodel, this article may just be the answer to your problems. Read on to explore some of the most popular products we offer at Jacuzzi Bath Remodel and learn how you can be sure you're getting a design that suits your needs.
Bathroom Remodel Designs From Jacuzzi Bath Remodel
At Jacuzzi Bath Remodel, we install premium products from the Jacuzzi® brand. Each one is lovingly crafted to provide lasting beauty and performance, with high-quality construction, built-in stain resistance, and expert installation. Your options include:
Bathtubs – From elegant, freestanding fixtures to models that can fit more than one person, we have what you need to create a spa-like oasis in your home.
Shower Systems – Our shower systems can be personalized from top to bottom.
Bathtub/shower Combos – Easily the best of both worlds, a bathtub/shower combo provides the freedom to take a bath or a shower depending on your mood.
No matter what you choose, you will be able to customize it to your preferences, selecting from a wide range of styles, colors, textures, and accessories. You can also rest easy knowing that your new bathing fixture comes with generous warranty protection from a highly regarded company.
Your Dream Bathroom Is Within Reach
Want to be sure you're getting the perfect bathroom remodel designs for your needs? Contact us today to be put in touch with an authorized Jacuzzi Bath Remodel dealer near you. Your dream bathroom is just a phone call away.