Can You Replace Just a Shower Door?
Sep 12, 2023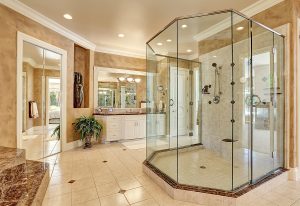 Bathrooms undergo considerable wear due to moisture and daily use. One fixture that often shows signs of this wear is the shower door. Over time, factors like mold, mildew, soap scum, and hard-water mineral buildup can cause it to become cloudy or discolored. Combined with potential cracks, chips, or rusted framing, many homeowners wonder, "Can you replace just a shower door?" The short answer is, absolutely.
Why You May Be Considering Installing New Shower Doors
There are many reasons you might need a shower door installation, including:
Serious safety concerns, including cracked or chipped glass doors, which could spiderweb and bury your bathroom in shards of broken glass.
The door no longer opens smoothly or closes firmly, putting you in a wrestling match, which can lead to your shower door's explosion.
Leaks, which can lead to mold, mildew, and rotting subflooring, can be the top reason for bathroom slips and falls.
You want a cost-effective upgrade because Installing shower doors alone is an economical way to enhance your bathroom's look and functionality.
Trust in Expertise
While some homeowners might attempt to tackle this project on their own, working with an expert ensures a seamless experience from selection to installation. At Jacuzzi Bath Remodel, we bring the assurance of genuine Jacuzzi® products combined with impeccable craftsmanship.
Drawing from over 65 years of advanced hydrotherapy engineering leadership, our team excels in performance and design. The Jacuzzi® brand stands for premium quality, with products designed for exceptional ease of cleaning and lasting durability. When considering a new shower door installation, know that our products are crafted for optimal comfort, ensuring that you focus on relaxation while we handle the rest.
Contact Us for Your Shower Door Needs
So, can you replace just a shower door? Yes, and Jacuzzi Bath Remodel is here to help. Our commitment to wellbeing, performance, design, and care ensures that your new installation not only elevates your bathroom's aesthetics but also stands the test of time. For professional guidance and a transformative bathroom experience, contact us today.