No Door, No Problem: Does a Walk-in Shower Need a Door?
Sep 01, 2023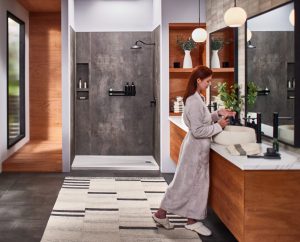 Are you considering having a walk-in shower installed at your home? While many homeowners are interested in this accessible shower model, most question the function of its low- or no-threshold design, asking: Does a walk-in shower need a door? If you feel like a door would detract from your new shower's design, don't fret; you can have a walk-in shower with no door. In fact, walk-in showers without doors tend to be a more popular design option and offer a wide variety of benefits.
The Benefits of a No-Door Walk-in Shower
When you think of walk-in shower doors, glass is probably the first thing that comes to mind. But more and more homeowners these days are choosing to skip the door entirely in favor of the benefits that come with a no-door walk-in shower. By investing in a walk-in shower without a door, you can:
Make Cleaning Easier
Cleaning your walk-in shower will be a breeze without a door. Why? You'll never have to squeegee a glass shower door, which happens to be one of the dirtiest parts of a shower. Instead of having a glass door that traps moisture and is constantly covered in water spots and soap debris, an open-air walk-in shower will dry out faster. This makes your shower less prone to unsightly mold and mildew buildup.
Enhance Accessibility
Have elderly family members that may be living with you in the future? Planning to age in place? Even if bathroom accessibility isn't on your mind now, it should be something you consider eventually. Not only are walk-in showers without doors a stylish trend, but they also make bathing a breeze for folks with mobility issues. Plus, your walk-in shower can become even more accessible with shower accessories and seating, which may be easier to incorporate in a doorless model. In other words, having a shower without a door will make it more likely for you to maintain your independence and comfort as you age in place.
Make Your Bathroom Appear More Spacious
Many modern showers feature swinging doors. This is a poor design option for small spaces, as the shower door can intrude into the space every time you maneuver it or go to air out the shower. If you're frustrated with your tiny bathroom, installing a walk-in shower without a door is a perfect solution. This way, you won't have to worry about feeling cramped every time you open the shower door. Walk-in showers with no doors also provide a light, airy aesthetic that will make your bathroom look and feel bigger.
Give Your Bathroom an Updated, Modern Feel
Although functionality is important when it comes to a shower, chances are that's not all you're thinking of—after all, you don't want to put up with an unattractive bathroom, either. Another benefit of a doorless walk-in shower is the way it can elevate the look and feel of a bathroom, making the whole space feel more elegant and modern.
Ready to Invest in a No-Door Walk-in Shower?
Found yourself wondering, "Does a walk-in shower need a door?" Hopefully, this article has answered your question—it really doesn't. If you're looking to build a new walk-in shower with no door at your residence, turn to Jacuzzi Bath Remodel. We offer an extensive line of premium products, featuring shower bases, wall surrounds, and fixtures that can be personalized to suit a wide variety of stylistic preferences. Best of all, an authorized Jacuzzi Bath Remodel dealer can perform a shower replacement or tub-to-shower conversion at your home in as little as one day, minimizing the inconvenience of your remodel. And what's more, our shower systems come with a generous limited lifetime warranty to protect your investment—so, what are you waiting for? Give us a call today to start discussing your vision with your local Jacuzzi Bath Remodel dealer.