Can You Put Bubble Bath in a Jacuzzi Bathtub?
Sep 14, 2022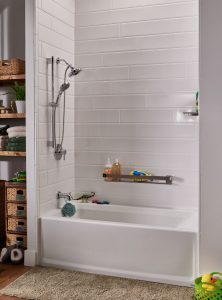 Jacuzzi® bathtubs offer a variety of unique benefits. They are extremely relaxing, and nothing beats their hydrotherapeutic features. As you soak in your luxurious tub, however, you may wonder if you can enhance your bathing experience with some bubble bath or liquid soap. As a Jacuzzi® bathtub owner, it's important to do your research before adding anything to your tub. Here at Jacuzzi Bath Remodel, we can help guide you in the right direction. Let's break it down:
The Dos & Don'ts of Adding Bubbles to Your Jacuzzi® Bathtub
As a general rule of thumb, you shouldn't add bubble bath to a jetted bathtub, as you don't want to risk clogging the jets, pumps, or motor. However, this doesn't mean you can't find safe alternatives. Here are some dos and don'ts that you can follow:
Don't – Bath bombs are extremely popular these days—and for good reason! They are fun and easy to use, but should not be added to your jetted bathtub as they can cause clogs.
Do – Bath salts can be good for Jacuzzi® as long as they don't contain carrier oils, they should be fine to use. We recommend using  Jacuzzi® Epsom salts for the best results.
Do – Be safe rather than sorry when it comes to putting oils, soaps, etc. into your Jacuzzi® If you have any questions, it's better to do your research first than to take a risk and potentially damage your bathtub.
Don't – Oils. Be careful when it comes to using oils. Essential oils are okay to use, but carrier oils aren't. Carrier oils can leave a film in your tub and clog the jets.
The Jacuzzi® Bathtub Experts
When it comes to keeping your Jacuzzi® bathtub in its best condition, you can always count on the expert team at Jacuzzi Bath Remodel. We're your premier source for Jacuzzi® products and installation services. We can help you design a bathtub that meets all of your style and functionality needs, and help you maintain it for years to come. In fact, we back our work with a limited lifetime warranty that protects our Jacuzzi® bathtubs against defects in both material and workmanship. We offer:
A collection of style options, installation types, and hydrotherapy experiences
Sophisticated and imaginative designs crafted from stylish and durable materials
A collection of safety accessories that you can add to your new bathtub, including grab bars, slip-resistant flooring, and ergonomically-placed shelves
Contact Us for Any Questions You May Have
With so many types of bubbles, bath bombs, oils, etc. on the market, it can be easy to get confused about what is safe or not for your Jacuzzi® bathtub. When in doubt, reach out to Jacuzzi Bath Remodel to get the answers you're looking for. And, if you don't have a Jacuzzi® bathtub yet but are interested in getting one, we can install one at your home in as little as one day. For a free quote and to connect with an authorized Jacuzzi Bath Remodel dealer in your area, contact us today.