What's the Best Type of Material for a Bathtub Surround?
Sep 02, 2021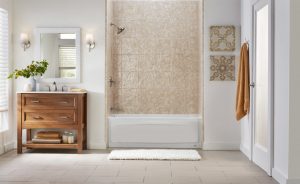 A new bathtub surround can enhance and beautify the entire space without the effort and cost of a full bathroom remodel. However, the material you choose for your bathtub surround can make all the difference in the quality of your investment. In fact, the material can determine everything from the overall appearance of your bathtub area to how much maintenance it will take to keep it clean, meaning you'll want to choose yours wisely. So, with options that include classic materials like natural stone and tile as well as more modern types like acrylic and fiberglass, what is the best type of material for a bathtub surround?
When it comes down to it, acrylic simply comes out on top as the best type of material for a bathtub surround. Jacuzzi Bath Remodel is here to explore what makes this material so outstanding, as well as to help you experience its benefits at your own home.
Acrylic vs. Other Materials
To understand what makes acrylic the best material for a bathtub surround, it's important to first dive into all the options that are available and the shortcomings of each. Types of bathtub wall surrounds include:
Tile
Tile wall surrounds can be either glass or ceramic, and this material has dominated the industry for decades due to its versatility. However, the downsides of tile are aplenty, including that it is highly susceptible to cracking and staining.
Perhaps the worst part about tile is that the installation requires it to be set with grout. While subtle, grout lines can become a breeding ground for mold and mildew that gets trapped in this porous surface and may even get beneath the tiles themselves. Because of this, tile is difficult to maintain over time and requires more effort in terms of cleaning. For these reasons and more, Jacuzzi Bath Remodel does not choose to install products made with tile.
Natural Stone
A natural stone bathtub wall surround can be made of granite, marble, slate, or limestone—all materials known for their beauty as well as their steep cost. These materials tend to weigh more than other bathtub surround options, making installation more difficult. What's more, their earthen nature makes them more easily damaged through regular use, so preventing staining and scratching can be particularly difficult. Fortunately, Jacuzzi Bath Remodel offers acrylic options that mimic the beauty of natural stone, only without the tedious maintenance requirements and hefty price tag.
Fiberglass
Fiberglass has become a popular material in recent years due to its affordability and lack of grout lines, making it a budget-friendly alternative to tile. Where it falls short, however, is in terms of durability and resistance to ultraviolet light. A fiberglass bathtub wall surround will typically show signs of fading, chalking, and yellowing over time, plus any cracks or chips that develop can allow mold to seep in and flourish.
Acrylic
The overall winner when it comes to the best type of bathtub surround, acrylic has gained a lot of popularity in recent years. It's not difficult to understand why, especially when you consider the durability, beauty, low maintenance requirements, and cost-effectiveness of this material.
What truly sets acrylic bath products apart from other options on the market is the customizability and ease of installation, especially when you partner with a company like Jacuzzi Bath Remodel. Our bathroom remodeling solutions are all constructed with premium nonporous acrylic that is infused with silver ions, making them remarkably resistant to mold and mildew growth to make cleaning an absolute breeze. They are also fully customizable, with options that include:
Wall colors, patterns, and textures
Convenient shelving and storage
ADA-compliant grab bars
Built-in seating and other safety features
Experience the Benefits of Acrylic With Jacuzzi Bath Remodel
Now that you know what makes acrylic the best option for a bathtub area, it's time to get ready to see the benefits for yourself. Explore some Jacuzzi® bathroom ideas online to create an idea of what your new bathtub can look like, then reach out to our friendly and helpful team to get started. Contact us today to learn more about acrylic bathroom products from Jacuzzi Bath Remodel and our one-day bathroom remodeling solutions.