The Top Bathroom Remodeler Serving Residents of Phoenix, AZ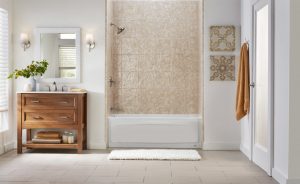 When you're looking for the best bathroom remodeler to partner with for a project in Phoenix, Arizona, Jacuzzi Bath Remodel will be here to help. You can transform the way your bathroom looks and make sure it meets all of your functional needs when you work with us, as we have premium bathing fixtures that we can install for you. Not only that, but our one-day installation process and personalized service is sure to leave you happy with your overall bathroom renovation experience.
A Bathroom Remodeler Providing First-Class Bathtubs & Showers
When you make Jacuzzi Bath Remodel your go-to bathroom remodeler in Phoenix, you'll have a variety of exciting options to choose from. You can rely on us for a:
Bathtub replacement – If you've ever wished you had a nice, relaxing soaking bathtub to return to at the end of a long day, we're here to make that wish a reality.
Shower replacement – A new walk-in shower can serve as the focal point of your entire bathroom, giving the space the visual boost it needs.
Tub-to-shower conversion – If you no longer have use for your bathtub and you're hoping to make use of the existing footprint where it currently sits, a tub-to-shower conversion is just the right project for you.
One of the best parts about working with Jacuzzi Bath Remodel is the fact that we complete our projects in as little as one day. Other bathroom remodelers may leave you without access to your bathroom for far too long while they complete your renovation, but that's not the case with us. We make the process easy and convenient, allowing you to get right to enjoying your new-look bathroom as soon as possible.
Make Us Your Trusted Bathroom Remodeler Today
If you're ready to transform the beauty and functionality of a bathroom inside your Phoenix, AZ, home, get in touch with Jacuzzi Bath Remodel today.