Bring a Serene Oasis Into Your Home With Our Bathroom Remodeling Services in Kansas City, MO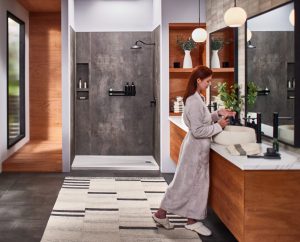 Elevate your everyday experience in your Kansas City, Missouri, home with premium bathroom remodeling. At Jacuzzi Bath Remodel, we transform your mundane bathrooms into spa-like sanctuaries with high-quality Jacuzzi® products. Our exquisitely designed bathtubs and showers enhance not just your bathroom but your wellbeing, too.
Bathtub Installation
Our beautifully designed Jacuzzi® bathtubs provide a serene escape in your home. Enjoy a spa-like experience without sacrificing beauty or safety.
Shower Installation
Upgrade your showering experience with our advanced shower installation solutions. Our shower designs guarantee style, comfort, and anti-microbial protection, ensuring a fresh, clean, and sophisticated bathroom space.
Bathtub-to-Shower Conversions
Need more space or a new look? We perform a transformation of your bathroom with bathtub-to-shower conversions, enhancing your bathroom's functionality and aesthetic appeal.
Local Bathroom Remodelers
As one of the leading local bath remodel contractors serving Kansas City, MO, we ensure every bath remodel is executed with precision, keeping your aesthetic and needs at the forefront.
FAQ
Here are a few of the thousands of questions we've fielded over the years:
Are There Any Health Benefits Associated With Using a Jacuzzi® Bathtub?
Yes, utilizing a Jacuzzi® bathtub can contribute positively to mental health, offering relaxation and stress relief. Our leading hydromassage jets gently ease away the day's worries.
Can I Install a Jacuzzi® Bathtub Myself?
For best performance and to ensure your warranty stays valid, professional installation by our bathroom remodelers is recommended.
What Options Do I Have for My New Shower Design?
We offer a diverse range of shower designs, ensuring they fit seamlessly into your space and complement your personal style.
In your Kansas City, MO, home, every bathroom remodeling project is a journey to elegance and sophistication. Trust us at Jacuzzi Bath Remodel with your dream transformations. For questions or to get started on this transformation, contact us today.