Offering Top-of-the-Line Showers & Installation Services in High Ridge, MO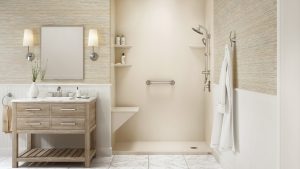 Are you exploring options for new showers in your High Ridge, Missouri, home? If so, turn to the professionals at Jacuzzi Bath Remodel. We have decades of experience behind our name as well as an extensive network of Jacuzzi Bath Remodel dealers ready to provide you with the shower remodel of your dreams. When you choose us for your shower replacement project, you can expect top-notch products, professional installation, and personalized service from start to finish.
Why Choose Us?
There are many reasons why homeowners prefer working with a Jacuzzi Bath Remodel dealer on their shower renovation project. We're known for providing:
Top-notch products – We proudly offer and install Jacuzzi® showers that are known for their attractive designs, reliable durability, and high level of customization. You'll be able to choose from numerous customizations, including various configurations, styles, accessories, and more to make your new shower the perfect fit.
Professional installation – Every Jacuzzi Bath Remodel installer is a highly skilled and experienced technician who will work diligently to ensure the best results for your shower remodeling project. What's more, we can typically complete this entire process in just one day for your convenience.
Personalized service – We'll listen to your goals and provide suggestions that will best suit your needs. You can also expect open lines of communication so that you always know the status of your project up through its completion.
To learn more about the Jacuzzi® showers we offer and install for homeowners throughout the region, contact Jacuzzi Bath Remodel today. We'd be happy to help you find the Jacuzzi Bath Remodel dealer nearest you in High Ridge, MO.