Will a Walk-In Shower Increase Your Home Value?
Jun 30, 2021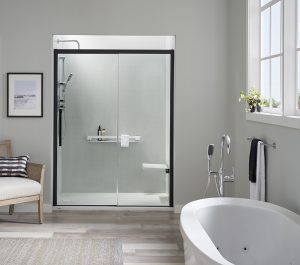 Are you considering a bathroom remodel at your home? If so, then you're likely wondering which products make for the best investment. While the main reason to take on a renovation is to improve your home and make sure it's better suited to your wants and needs, increasing the value of your home is also key if you may be placing it on the market at some point down the line. A walk-in shower installation is a popular bathroom remodeling project, but the question is: will it increase your home value?
In short: it absolutely can! The important differentiator in whether your home value will be impacted positively or negatively is in who you turn to for your new walk-in shower. Fortunately, Jacuzzi Bath Remodel is here to help.
Walk-In Showers vs. Bathtubs
A bathtub/shower combination is what you'll typically find in most homes, but walk-in showers have risen in popularity in recent years due to their sleek, modern appearance and easy-to-use nature. In terms of which system adds more value to a home, it really just comes down to personal preference. A bathtub would likely appeal to a family with young children, while a walk-in shower is a wiser choice for anyone with elderly or mobility-impaired loved ones in the home. If there are multiple bathrooms in the home, then having a walk-in shower installed in the master bathroom is typically a wise investment as it provides the option to use either bathing fixture if the guest bath features a traditional bathtub.
The easiest way to ensure your new walk-in shower adds value to your home? By choosing one from Jacuzzi Bath Remodel. That's because Jacuzzi® shower systems are constructed with premium materials that make them remarkably durable and low maintenance, so they can be relied to maintain their like-new appearance for years to come. Jacuzzi Bath Remodel costs are much lower than that of a traditional full bathroom remodel, making this a cost-effective investment as well. What's more, our walk-in shower installations can be completed in as little as one day, allowing you to start enjoying your new shower sooner.
Appearance Counts
No matter whether a potential buyer prefers a traditional bathtub or a modern walk-in shower, the look of the fixture places a heavy weight on their overall impression of the home. A dingey old bathtub will be a turnoff even if they would typically prefer this style over a shower system, but a walk-in shower built with attractive acrylic and plenty of luxurious features may be just the ticket. Jacuzzi Bath Remodel shower systems are fully customizable, meaning you can select the right color and texture to create an appearance that is unique to your home and boosts the look of the entire bathroom space.
Since Jacuzzi Bath Remodel walk-in showers are also built with an antimicrobial surface layer embedded with silver ions, they are scratch, impact, and UV-resistant as well as protected against the growth of bacteria and mold—and if there's one easy way to lose home value fast, it's with pesky mold growth. Not only will you benefit from the low maintenance requirements of this innovative material, but the next homeowner after you will as well.
Get Started With Jacuzzi Bath Remodel
All in all, a walk-in shower can increase your home value—so long as you partner with Jacuzzi Bath Remodel. With us, you can design your new walk-in shower down to the last detail, so you can choose the right aesthetic and functional features to suit your home best. After all, there's no point in increasing the value of your home if you aren't going to enjoy it while you're there! Contact us today to get started and get connected with an authorized Jacuzzi Bath Remodel dealer in your area.