Which Home Improvements Add the Most Home Value?
Jul 07, 2021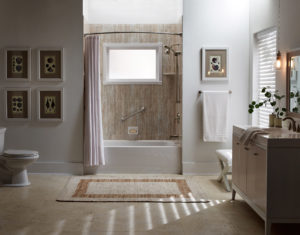 If you're thinking about home improvements, you're no doubt considering the return on investment (ROI) of your various projects. And when it comes to single rooms, there are two consistent winners for remodeling ROI: kitchens and bathrooms. Remodeling other areas of the home can yield a highly fluctuating ROI, depending on current trends. However, it's hard to imagine a scenario in which kitchens and bathrooms go out of style—which is why they're perennial favorites for homeowners and homebuyers alike.
Make Your Home More Useful
The single biggest reason that both kitchen and bathrooms are so popular for remodels is their utility: they're both rooms that see a lot of use, day in and day out. That means the impact of remodeling and renovating will be noticeable every single day as you use a new stove or bathtub, for example. Practical upgrades are hugely popular with homebuyers, who often appreciate new appliances and fixtures along with the other modernizing touches of a remodel. When it comes time to upgrade your own home, remember that selecting upgrades that are as functional as they are beautiful can often lead to the highest ROI.
Choose Luxury
The quality of your individual remodeling components is another important element to consider when you're trying to find a home improvement project that adds value. Often, brand consideration and perceived quality can have as much of an impact on the value of your home improvement project as overall design. After all, homebuyers like finding products they recognize—especially when they're renowned for their quality. While this can often translate to a slightly higher up-front cost for a project, it also often has huge impacts on ROI. Better products can always demand a higher price.
Custom Pieces Are More Valuable
When it comes to selecting all the components of your home improvement project, it's a good rule of thumb that custom pieces can command a higher price. Whether the custom pieces are new cabinets or replacement showers, homebuyers love items that are a perfect fit for the home they're considering. The customization doesn't often need to be incredibly extensive, since it's nearly guaranteed to be an upgrade from the standard builder's-grade components found in many homes.
Choosing Between Your Kitchen and Bathroom
At this point, you might be asking yourself which room you should pick. The good news is that if increased home value is your goal, remodeling either your kitchen or bathroom is almost guaranteed to be a slam dunk. But which one is right for you? The biggest consideration is often your budget. While both kitchens and bathrooms can be remodeled within a range of budgets, it's undeniable that your remodeling dollar will go farther in a bathroom. Since they are often much smaller rooms, bathrooms are the perfect candidates for either a lavish or a reserved remodel.
Ask Bathroom Remodeling Experts
At Jacuzzi Bath Remodel, we might be slightly biased towards bathroom remodeling, but we've also seen firsthand how it can transform homes and homeowners. To find out more about our bathroom remodeling services, including our world-famous Jacuzzi® products, contact us today and schedule a consultation with our team.