What Is the Difference Between a Shower Base Vs Shower Pan?
Sep 12, 2023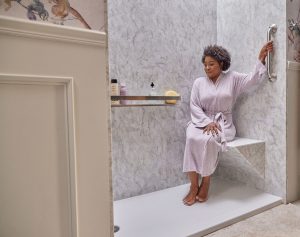 Embarking on a bathroom remodel is an exciting journey to achieve the bathing space of your dreams. But with various industry terms floating around, it can feel like a daunting process. A common confusion arises when the terms "shower pan" and "shower base" are used interchangeably. However, when discussing a shower base vs a shower pan for your bathroom, you need to know that they don't refer to the same thing. So, let's clarify this for you.
Understanding Their Functions
The bottom line is, you need both a shower base and shower pan. The shower pan is the visible floor of your shower—the actual surface you stand on during a shower or bath.
Shower bases are the foundation of your bathtub or shower. They provide the structure positioned right below the shower pan, guiding water effectively into the drain.
Both are crucial for a successful shower remodel, but they serve different purposes.
Delving Into Materials
With numerous different types of shower bases and different types of shower pans, choosing the right one becomes essential.
Shower bases formed from cement mortar provide a strong foundation for your shower.
Shower pans come from diverse materials, including acrylic, metal, ceramic, and more. Each material offers unique benefits, so your choice should be based on your aesthetic preferences and maintenance expectations.
Turn to the Experts
We're hopeful that you now understand the difference between a shower base vs a shower pan. If you're considering a bathroom renovation, remember this difference to make informed decisions. At Jacuzzi Bath Remodel, we pride ourselves on our authoritative knowledge, product quality, and unmatched customer experience. For a shower remodel that embodies wellness, design, and performance, contact us. Our expert teams, backed by over 65 years of hydrotherapy engineering leadership, ensure that your remodel can be completed in as little as one day. Trust in our expertise and elevate your bathroom to a new level of excellence.