Universal Design Bathroom Remodel: Principles of Universal Design and Creating a Bathroom Accessible and Safe for Everyone
Aug 02, 2023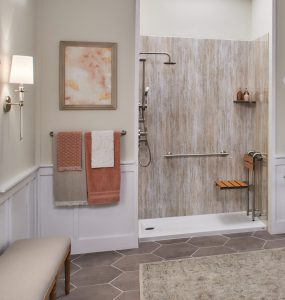 In today's world, inclusivity and accessibility are crucial elements in every aspect of life, including home design. One area that demands special attention in this regard is the bathroom. With a universal design bathroom remodel, you can ensure that the space is welcoming, functional, and safe for people of all ages and abilities to use. At Jacuzzi Bath Remodel, we are committed to crafting bathing spaces that cater to diverse needs without compromising on quality and comfort. As a leader in innovative bathroom products, the Jacuzzi® brand offers several options to create a bathroom that is accessible for everyone.
The Principles of Universal Design
Universal design is a concept that promotes environments that can be accessed by everyone. Some of the essential principles in this situation include:
Equitable use – Ensuring that a bathroom is convenient and comfortable for all users, regardless of their physical ability or level of mobility.
Flexibility in use – Designing spaces with features that can accommodate a wide range of preferences and abilities.
Simple and intuitive use – Creating easy-to-understand and straightforward layouts that require minimal effort to navigate.
Perceptible information – Making information clear and easily understandable, such as faucet settings or temperature indicators.
Tolerance for error – Minimizing hazards and the consequences of accidents to promote a safer environment.
Low physical effort – Reducing the need for strenuous physical exertion to access all the bathroom fixtures and amenities.
Jacuzzi Bath Remodel: Setting New Standards for Accessible Bathrooms
When it comes to creating a bathroom that is safe and accessible for everyone, it's important to keep the principles of universal design in mind. At Jacuzzi Bath Remodel, we offer thoughtfully designed Jacuzzi® shower systems available with a variety of accessibility features. Here are a few of the options you may want to consider:
Low- and no-threshold shower bases – Many falls happen when attempting to step over a high tub wall or onto an elevated shower base. A no- or low-threshold base will practically eliminate the risk.
Slip-resistant flooring – Showers are notorious for having slippery surfaces. With slip-resistant flooring, you can greatly reduce the chance of slipping and falling.
Handheld shower heads – With handheld shower heads, you can direct the spray of water where you need it without having to bend over or contort your body and risk throwing off your equilibrium.
Movable in-shower seating – If you or a family member cannot stand for long periods of time, this is the perfect solution. We offer types of seating that can be put away when not in use so others can choose to use it or shower without.
Grab bars – These are a simple but effective way to provide extra support and stability while bathing.
By incorporating these products and others into your bathroom remodel, you can create a bathing space that is inviting, safe, and accommodating for all individuals, including those with mobility issues. And you won't have to sacrifice any style or comfort to do so.
Start Planning Your Universal Design Bathroom Remodel Today
Interested in creating a more inclusive and welcoming bathroom at your home? Embark on your universal design bathroom remodel journey with Jacuzzi Bath Remodel—you won't regret it. Reach out to our team today to speak to an authorized Jacuzzi Bath Remodel dealer and start planning your renovation.