Types of Shower Wall Materials
Dec 14, 2021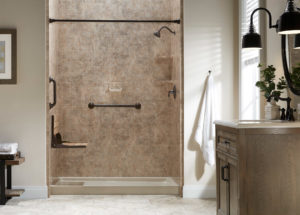 If you're considering investing in a new shower for your home, you're likely weighing many options before making a final commitment. One important factor to include in this decision-making process is shower wall material. There are a variety of types available, each with their own list of associated benefits. So, with so many shower wall material options out there to choose from, how can a homeowner know which is best for them? Understanding the different types of shower wall materials is a good start, with options that include:
Tile
Ceramic and porcelain tiles have long been popular types of shower wall materials, mainly due to their customizability. Tiles come in a vast array of sizes, textures, and colors, and they can also be installed in a variety of patterns to create a unique look. While they may be aesthetically appealing, though, tile shower walls come with quite a few downsides. Tile is susceptible to staining and scratching, and because tiles are installed one-by-one using grout, they require more maintenance to keep their appeal over time. If scrubbing stubborn grout lines isn't at the top of your list of favorite chores, then a different type of shower wall material may be a better option for you.
Natural Stone
Natural stone shower walls—which are also laid individually as with ceramic and porcelain tiles—are known for their gorgeous appearance that can suit the style of practically any bathroom. Options include materials like marble, granite, slate, and onyx, all of which have their own unique pros and cons. In general, natural stone shower walls are more expensive due to their weight and can be more difficult to install. Due to their porous surfaces, they are also more susceptible to staining and other damage over time.
Fiberglass
A more cost-effective type of shower wall material, fiberglass has become increasingly popular in recent years. These shower systems can be prefabricated, which makes installation much faster and easier than other types of shower walls. Fiberglass shower systems can typically be customized to suit the style of any bathroom, but it should also be noted that it is prone to becoming scratched or faded.
Acrylic
If there's one type of shower wall material that seems to come out on top in terms of looks, durability, and ease of maintenance, it's acrylic. Similar to fiberglass, acrylic shower walls are typically installed in one prefabricated piece. They are also fully customizable, allowing you to choose the right color, pattern, and texture to create a look you'll love for years to come. What's more, acrylic won't fall victim to scratching, staining, or fading over time like other materials will.
Get the Best Results With Jacuzzi Bath Remodel
Now that you know more about the different types of shower wall materials available to you, it's time to start designing your new shower. If acrylic sounds like the best investment for your wants and needs, there's no better option than choosing Jacuzzi Bath Remodel for yours. That's because our acrylic showers:
Are crafted from premium nonporous acrylic infused with silver ions, making the walls resistant to the growth of mold, mildew, and bacteria
Can be completely customized with an array of aesthetic and functional features, including safety and accessibility options like grab bars and seating
Come in low- and no-threshold options for maximum comfortability
Can be installed in as little as one day, minimizing the interruptions to your home and routine
Are protected with a limited lifetime warranty against defects in material and workmanship
Interested in learning more about what makes a Jacuzzi® shower the right option for you? Contact us today to get started.