Tub-to-Shower Conversion Ideas for Your Next Bathroom Remodel
Apr 28, 2021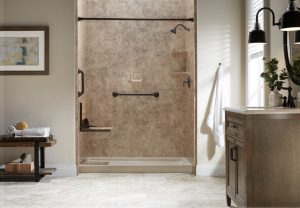 A bathroom remodel is the perfect opportunity to transform your bathroom into the relaxing oasis of your dreams. However, the idea of a full bathroom renovation can feel like a hassle, one that conjures images of torn out pipes and a mess in your bathroom for days if not weeks. The good news is that there's a better solution out there, one that will save you from the stress of a drawn-out remodel and have you falling in love with your home again in no time: a tub-to-shower conversion.
A tub-to-shower conversion is the perfect way to upgrade the look and functionality of your bathroom, especially if a walk-in shower is better suited to your lifestyle and needs. For a truly outstanding tub-to-shower conversion for your next bathroom remodel, try exploring the following ideas.
Choose a Reliable Company
When it comes to a tub-to-shower conversion project, one of the easiest ways to ensure you get the best value for your remodeling dollar is by choosing a reliable company. That's where Jacuzzi Bath Remodel comes in, manufacturing the industry's best walk-in showers and other bathroom remodeling products that are available from trusted dealers who complete each installation with the utmost expertise.
Keep an Aesthetic in Mind
When you choose Jacuzzi Bath Remodel for your tub-to-shower conversion, you'll be able to customize your new walk-in shower down to the last detail. Whether you prefer a classic tile look or something more modern, try to have a complete vision in mind for the result of your conversion so that you can choose the right colors, patterns, and textures to bring that image to life. If you're not sure what look you're going for just yet, explore examples online and take note of what strikes your interest.
Customize Your Fixtures
A remodel is your chance to personalize your space and make it your own—and that means more than just how your shower looks. With Jacuzzi Bath Remodel, you can select features like shower seats and grab bars to improve safety and accessibility, as well as storage features and shower heads to build a shower that meets your every want and need. Whether you're planning on aging in place or are simply just tired of your shampoo bottles taking a tumble every time you shower, Jacuzzi Bath Remodel has you covered with our customizable tub-to-shower conversions.
Maintenance Matters
If one of the things that irritates you most about your current bathtub is how much time and effort you have to put in trying to keep it clean, make sure your tub-to-shower conversion will lead to results that require less maintenance. A walk-in-shower from Jacuzzi Bath Remodel, for example, is made with a nonporous acrylic material infused with silver ions, enabling it to resist bacteria and mold growth as well as staining, cracking, and chipping. This means you'll be able to put those harsh chemicals away and spend less time cleaning, but more time relaxing.
Explore More Jacuzzi Bathroom Ideas
If reading this already has your head spinning with ideas for your tub-to-shower conversion, it's time to get in touch with Jacuzzi Bath Remodel. Contact us today to learn more about how we can transform your bathroom with a custom tub-to-shower conversion. We'd be happy to explore more bathroom remodeling ideas with you to bring your dream bathroom to life in as little as one day.