The Latest Jacuzzi Tub Shower Combo Styles & Colors
Jul 19, 2022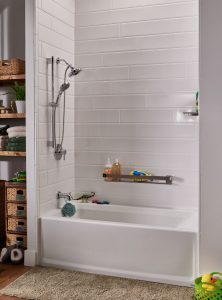 Transforming your bathroom into a stylish and relaxing oasis is easier than ever when you partner with Jacuzzi Bath Remodel. We proudly offer Jacuzzi® tub shower combos that will look fantastic and stand the test of time.
Customized Just for You
Whether you want a modern and trendy bathroom or prefer a rustic and cozy look, you can count on Jacuzzi Bath Remodel to bring your vision to life. Select from a range of style options, unique textures, and top-of-the-line accessories, including:
Grab bars
Shelving
Low- and no-threshold options to make getting in and out of your tub easy
A movable shower seat and showerhead
Slip-resistant flooring
Additional hydrotherapy options
Additionally, you can choose from a wide range of unique colors to match your style preferences like:
White
Gray
Tan
Almond
Oyster
Blue
Green
Go with white for a chic and timeless appearance or add in pops of color to showcase your personality. With Jacuzzi Bath Remodel, the style and color combinations available for your bathroom project are virtually endless!
Ease of Maintenance
Jacuzzi® tub shower combos are more than just stylish; they're also extremely easy to clean and maintain. Our bath products are designed with an antimicrobial surface layer with embedded silver ions that protect against the growth of mold, mildew, and bacteria. Plus, it takes little more than a simple wipe down with mild soap and water to keep your tub shower combo looking good as new.
Durability Never Goes Out of Style
No matter how stylish your new tub shower combo is, if it doesn't stand the test of time, it won't be a worthy investment. That's why Jacuzzi® products are the way to go. For example, thanks to a high-density PVC core and two layers of aluminum backing, Jacuzzi® showers are scratch-, impact-, and UV-resistant. That means you won't have to worry about it fading, cracking, or showing signs of wear over time. For additional peace of mind, Jacuzzi Bath Remodel offers an exceptional limited lifetime warranty that protects our Jacuzzi® products against defects in both material and workmanship.
Rely On Jacuzzi Bath Remodel
With a long-standing reputation for innovation, style, and quality beyond compare, the Jacuzzi® brand has truly changed the history of bathing as we know it. At Jacuzzi Bath Remodel, we're honored to offer tub shower combos that take your style and color preferences and use them to transform your bathroom into a spa-like oasis you will love for years to come.
Fortunately, designing the bathroom of your dreams has never been easier when you partner with the highly trained and experienced team at Jacuzzi Bath Remodel. Not only do we offer top-tier Jacuzzi® products, but our master technicians will install them at your home flawlessly. In fact, our expert team can install your new tub shower combo in as little as one day. For a free quote and to connect with an authorized dealer in your area, contact us today.