The History of the Shower
Nov 07, 2022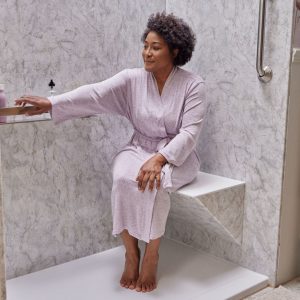 When you take a warm and relaxing shower, do you ever wonder how this simple yet incredible product came to be? From humble beginnings to the modern fixtures we can't live without, the shower has come a long way. Jacuzzi Bath Remodel is here to help break it all down and showcase why our shower products are so special.
Ancient Showers
As society began to advance, jugs were invented, and they officially became some of the first showers! The ancient Egyptians and Mesopotamians are believed to be the first societies to utilize these makeshift showers. While a cold jug shower may not seem luxurious, the ancient Egyptians made them a sign of status. Wealthy members of society would make their servants bring jugs of water to special bathing rooms.
The Greeks took this simple idea and brought it up a notch, developing the first drainage systems. This was great, as dirty water was transported out of rooms via lead pipes, ensuring a cleaner society—literally. The Romans built large bathhouses on both their native lands, as well as all the lands they conquered. While the Romans were able to develop and build advanced sewage systems for disposing of wastewater, this technology would soon be put on hold once their empire collapsed.
The Modern Shower
The first modern shower wasn't invented until 1767 when it was patented by a London stove maker named William Feetham. His invention pumped water into a basin above the user's head, and then they'd pull a chain to release it. By 1810, the English Regency Shower was invented, allowing people to finally enjoy the soothing effects of a hot shower. Fast forward to the 1980s, and showers were finally more popular than ever. Now, there are many types of shower designs to choose from.
Incredible Showers Offered by Jacuzzi Bath Remodel
Does your current shower feel like it belongs in ancient times? Jacuzzi® showers from Jacuzzi Bath Remodel can take your bathroom to an entirely new level. Not only are our Jacuzzi® Premium Shower Walls built with durable Tri-Tek® composite materials, but you'll also be able to select from a wide range of stylish colors and textures. Furthermore, our highly trained and experienced installers can complete your bathroom transformation in as little as one day, so you can enjoy your new shower as soon as possible.
Additionally, our shower wall surrounds are incredibly easy to maintain and are embedded with silver ions that protect against the growth of mold, mildew, and harmful bacteria. You can even include some of our incredible customization options, which include:
ADA-compliant grab bars
Moveable shower seats
Low- and no-threshold options
Additional hydrotherapy options
Design Your Relaxing, Modern Shower Today
The shower has come a long way, and it's something most of us utilize on a daily basis. So why not take advantage of the stylish, durable, and functional shower systems offered by the expert team at Jacuzzi Bath Remodel?  For a free quote and to connect with an authorized dealer in your area, contact us today. We look forward to working with you.