Remodeling Your Bathroom on a Budget
May 27, 2021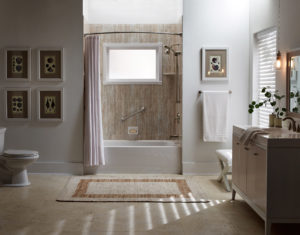 Bathroom on a budget—it has a nice ring to it, right? Whether you believe in penny-pinching powers or not, we're here to tell you that you can remodel your bathroom while sticking to a budget. What's more, you don't have to do it alone. Here are some of our favorite tips for achieving your dream bathroom remodel without breaking the bank:
Research Material Dupes
When most people think of their dream bathrooms, they picture luxury materials like marble, ceramic, and porcelain. And while refurbishing existing materials is one of the best ways to cut down on bathroom remodeling costs, the alternative is to look for material dupes. You can find inexpensive material lookalikes for just about any type of luxury good these days thanks to modern innovations like vinyl, laminates, and other artificial blends. Going the cheaper route can also benefit you in the long run, as acrylics and composites often have a longer lifespan in temperate climates and require less maintenance.
Upgrade Bathroom Hardware
Swapping hardware is a quick and affordable way to revive your bathroom's aesthetic appeal. If you want to make the design really pop, try sticking to the same material and color for all of the new hardware in your bathroom—carrying the same theme throughout the entire space by upgrading the:
Sink faucet
Cabinet/vanity hardware
Shower/tub hardware
Lighting sconces
Take on Paint Projects Yourself
Thanks to the bath/shower unit and other large fixtures—like the vanity and sink mirror—your bathroom probably only has three visible walls, if that. This makes it one of the best rooms to DIY paint in your home. Throw on some old clothes, reserve a weekend, and grab the essentials: painter's tape, drop cloths/plastic tarp, paintbrushes, and paint.
Pro tip: Choose paint that works well in humid climates, repelling moisture rather than absorbing it.
Choose a Prefabricated Shower System
A prefabricated shower system, like a Jacuzzi® shower, is a more affordable option for homeowners who are ready to replace the existing shower system in their outdated bathroom.
The Biggest Takeaway
When it comes to remodeling your bathroom on the budget, try to resist the urge to DIY everything! DIY doesn't stand for "do it yourself because it'll be cheaper." So, if you don't have construction or plumbing experience, your best bet is to partner with a professional. These contractors can often end up saving you money by helping you avoid the pricey mistakes of DIY projects gone wrong. A pro bathroom remodeler will also have the expert knowledge that you can trust when it comes to designing your overall bathroom. For example, they should be able to help you find solutions that work for your budget—not against it! If you find that you're dealing with pushy sales tactics during the initial consultation, then the partnership is not a good match. Instead, turn to Jacuzzi® Bath Remodel.
Contact us today to learn more about our bathroom remodeling services!