Preparing for Your Jacuzzi® Shower Installation: Dos and Don'ts
Jul 11, 2022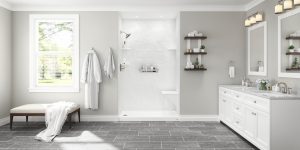 If you've decided to invest in a Jacuzzi® shower system, you're already on your way to experiencing a more luxurious shower experience. First, though, you'll need to actually have that replacement shower installed. While this part of the process may be a little less exciting than designing your new Jacuzzi® shower, it's no less important. With that said, there's some things you can do to prepare for your Jacuzzi® shower installation, and Jacuzzi Bath Remodel is here to make things as smooth as possible for you by laying out some dos and don'ts. Let's start off with:
Do: Expect a Little (Or a Lot of) Noise
Like with any home improvement project, your Jacuzzi® shower installation is going to take a bit of expert care to complete. The team of technicians who complete your shower installation will be doing things like pulling out your old shower (or tub, in the case of a tub-to-shower conversion), removing it properly, installing your new one, and making sure everything is watertight when they're done. All this action will require some power tools and powerful work, all of which can create a good bit of noise. Because of this, you might want to make sure that any pets or young children have somewhere else they can safely go so that they don't get overwhelmed by the sounds of a temporary construction zone in their own home.
Don't: Freak Out If Things Get a Little Messy
As mentioned above, replacing a shower is pretty intensive process with a lot of specialized tools and processes involved. Because of this, a bit of dust and mess can be expected—but it's important to note that it's all only temporary. At Jacuzzi Bath Remodel, the dealers that install our Jacuzzi® shower systems are all highly skilled and trained, and you can rest assured that they'll take extra care to clean up after themselves when all is said and done.
Do: Move Things Out of the Way If You Can
Remember: your shower is going to be replaced, so there's no need to leave your toiletries in the old shower since they'll only have to be moved so that work can commence on installing the new one. Try to remove any items like shampoo bottles and other items in your shower, as well as taking off your shower curtain and moving items that may be close by your shower or bath basin to make as much room as possible for the installation team.
Don't: Worry That Your Home Will Be Interrupted for a Long Time
With Jacuzzi Bath Remodel, your new Jacuzzi® shower could be installed in as little as one day. That means fewer interruptions to your home any daily routine so that you can start enjoying your new shower faster than would be possible with a traditional bathroom remodel. However, some delays can happen—although it may be uncommon—so be sure to have a backup plan in place in case the installation for some reason takes longer than expected.
Discuss All the Details of Your Jacuzzi® Shower Installation With Jacuzzi Bath Remodel
Want to learn more about how to be best prepared for your Jacuzzi® shower installation? The friendly team at Jacuzzi Bath Remodel would be happy to help! Contact us today to have your questions answered or to get your project started. With us on your side, your dream shower is closer than you think.