Jacuzzi® Walk-In Showers
Mar 21, 2023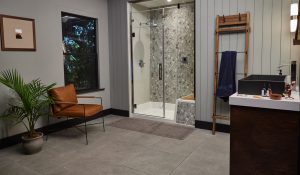 At Jacuzzi Bath Remodel, we believe that every homeowner deserves a relaxing bathroom experience. That's why we specialize in providing premium walk-in showers that cater to your specific needs and style preferences.
We offer a wide range of walk-in shower upgrades that are designed to elevate your daily routine. Our team of bathroom remodel experts will work with you every step of the way to ensure that your walk-in shower installation project is seamless, stress-free, and exceeds your expectations.
Benefits and Features of Jacuzzi® Walk-In Showers
Walk-in showers provide numerous safety benefits, especially for those with limited mobility or balance issues. With no high thresholds to step over, walk-in showers reduce the risk of slips and falls. In addition, many walk-in showers come equipped with grab bars and non-slip flooring, providing added stability and support. Walk-in showers are a safe and practical choice for anyone looking to enhance the accessibility of their bathroom.
Jacuzzi® walk-in showers offer the perfect balance of style and functionality for any bathroom. With a full line of shower fixtures, doors, pans, and accessories to choose from, you can create a customized bathing space that matches your everyday shower needs while providing long-lasting quality.
When selecting your fixtures and design elements, consider your style and desire for water pressure and flow control. This will help you choose the perfect shower fixtures, doors, and base options we offer to complement your space while elevating your daily routine.
Enjoy a More Accessible Bathroom Today
Jacuzzi Bath Remodel is here to provide you with the support and comfort you require for a successful bathing experience. Contact us today to find out more about the walk-in showers we can install in your home. We look forward to hearing from you and answering any questions you have.