Jacuzzi® Walk-in Shower Options for People With Mobility Issues
Apr 10, 2023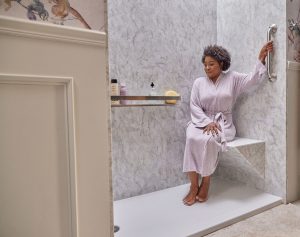 As you age, certain activities that you once considered routine may become difficult. You may notice that you can no longer rush up and down a flight of stairs without clinging to the railing for balance, and that going from sitting to standing has become a challenge. But even if you struggle with certain day-to-day activities, that doesn't mean you must sacrifice your privacy for safety when it comes to bathing—at least, not when you invest in a Jacuzzi® walk-in shower from Jacuzzi Bath Remodel. This exceptional product can allow those with mobility issues to maintain their independence thanks to a low-barrier entry point and optional accessibility features.
A Walk-in Shower Designed to Suit Your Needs
At Jacuzzi Bath Remodel, we have everything you need to have a stylish, comfortable, and safe bathing experience, from low- and no-threshold slip-resistant shower bases to adjustable shower seating. Each of our models, fixtures, and accessories is designed to add a customized look and feel to your bathroom as well as enhance the comfort and functionality of your bathing space.
Features of Our Shower Systems
Besides being customizable to make bathing safer for those with mobility issues, Jacuzzi® walk-in shower systems offer several other attractive benefits. For example, all Jacuzzi® products are backed with a limited lifetime warranty*. Because you have the power of a well-established, world-renowned brand behind your purchase, you can be confident that your investment is protected. You'll also enjoy the following benefits:
Top-quality components and long-lasting materials, such as nonporous acrylic and our exclusive TriTek™ composite, ensure that our bathtubs and shower systems will never crack or fade with normal use.
Silver ions infused into the surface of our shower walls and bases prevents bacteria, mildew, and mold from growing and spreading, leaving the bathing space cleaner and healthier for you and your family.
A design created to provide a rejuvenating and refreshing spa-like experience that revitalizes both body and mind thanks to 65 years of hydrotherapy engineering.
You won't have to sacrifice any visual appeal for functionality or vice versa—with Jacuzzi Bath Remodel, you can have it all. That's why we're one of the nation's leading bathroom remodeling companies for those with mobility issues.
Installation of Your New Jacuzzi® Walk-in Shower
It could not be easier to achieve your dream bathroom with Jacuzzi Bath Remodel. We offer a nationwide network of experts who can walk you through designing the perfect shower for your needs and complete your installation flawlessly in as little as one day. Working with an authorized dealer ensures that you're getting genuine Jacuzzi® products and a frustration-free shower remodel.
If you're ready to move forward with your shower remodel, contact Jacuzzi Bath Remodel today to be put in touch with your local dealer and start perusing our complete collection of easy-entry shower bases, solid and textured shower walls, sophisticated fixtures, and various accessibility features. We can't wait to provide you with a walk-in shower that you can use freely and safely.
Disclaimer: *Installation and some warranty terms vary by dealer. Contact your local Jacuzzi Bath Remodel dealer for details.