Jacuzzi® Bathtub Maintenance Tips: Best Practices for Maintaining and Cleaning Your Jacuzzi® Bath
Aug 02, 2023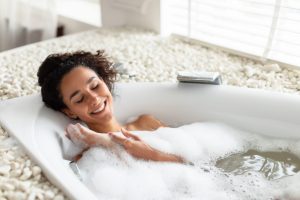 At Jacuzzi Bath Remodel, our mission is to create an experience that improves our customers' lives, combining design innovation with the highest performance quality. With our Jacuzzi® bathtubs, we don't just elevate your bathroom. We turn it into a sanctuary for wellbeing. We have assembled a list of eight top tips to maintain the premium quality of your Jacuzzi® bathtubs, ensuring your bathing sanctuary remains a place of relaxation and rejuvenation.
1. Regular Cleaning
The first step to maintaining your Jacuzzi® bathtub is regular cleaning. A non-abrasive, non-foaming cleanser will effectively clean your bathtub without damaging its surface. Our Jacuzzi® bathtubs are designed for easy cleaning, ensuring you spend less time on maintenance and more time enjoying your relaxing baths.
2. Cleaning the Jets
Our Jacuzzi® bathtub jets, synonymous with the therapeutic benefits of moving water, require regular cleaning to maintain their performance. Run warm water through the jets with a suitable jet cleaner to clean them. This helps to clear out any residue or buildup that might have accumulated during regular use, ensuring a perfect hydrotherapy experience each time.
3. Surface Care
Preserving the breathtaking beauty of your Jacuzzi® bathtub involves careful care of the rim and outside of your bathtub. Wipe down the surfaces with a soft, damp cloth to keep them looking new and fresh. Avoid harsh chemicals or abrasive cleaning tools, which can damage the surface. Our bathtubs are designed with long-lasting, stain-resistant materials that are easy to clean, allowing them to maintain their aesthetic appeal.
4. Preventing Water Stains
Preventing water stains is crucial to keep your Jacuzzi® bathtub in pristine condition. After each soak, remember to dry your bathtub thoroughly. Remove any excess water lingering on the surface using a squeegee or soft towel. Doing so prevents unsightly water stains from marring the bathtub's aesthetic appeal and wards off the formation of mineral deposits.
5. Professional Inspection
We recommend having your Jacuzzi® bathtub inspected by a professional occasionally. Our authorized Jacuzzi Bath Remodel experts can identify and rectify potential issues, ensuring the longevity of your bathtub. Signs that your bathtub may need maintenance include:
Leaking
Weak or no jet pressure
Visible chipping or cracks—which would be extremely rare
We stand by the quality of our craftsmanship and the exceptional performance of Jacuzzi® bathtubs.
6. Regular Operation
Regular operation of your Jacuzzi® bathtub helps to keep it in top condition. Even when you're not planning on taking a bath, consider running the water and jets. This ensures the plumbing stays clear and clean, with no stagnant water deterring you from your next relaxing bath.
7. Careful Product Use
As you enjoy your Jacuzzi® bathtub, it's essential to consider the type of products you incorporate into your bath water. Certain substances, such as oils or bubble baths, might negatively impact the system's performance. To maintain optimal functionality and ensure a safe, indulgent bathing experience, choose products that have been specifically formulated for use in Jacuzzi® bathtubs.
8. Regular User Instruction
You must ensure that everyone who uses your Jacuzzi® bathtub knows its correct usage. Everyone should know how to avoid overfilling the bathtub and clearly understand how to use the jets and other features. Adherence to proper usage procedures is fundamental to safeguarding your bath's function and extending the lifespan of your Jacuzzi® bathtub.
Why You Should Choose Jacuzzi Bath Remodel
With these tips, your Jacuzzi® bathtub will continue to provide a spa-like sanctuary in your own home. At Jacuzzi Bath Remodel, we pride ourselves on creating products that transform your space while offering unparalleled customer experience. Contact your local Jacuzzi Bath Remodel experts for more detailed guidance on maintaining your Jacuzzi® bathtub.