Jacuzzi Bath Remodel: Upgrading Your Bathroom for Relaxation and Comfort
May 23, 2023
Jacuzzi Bath Remodel: Upgrading Your Bathroom for Relaxation and Comfort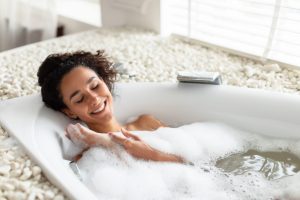 Looking for ways to upgrade the relaxation and comfort of your bathing experience? The best way to ensure that your bathroom provides the ideal levels of relaxation and comfort is by customizing your bathing space to suit your unique needs. At Jacuzzi Bath Remodel, we install premium Jacuzzi® products that are designed to be the epitome of beauty and functionality, offering a bathing experience unlike any other. With our team on your side, you'll have seasoned professionals paving the way for you to achieve the spa-like retreat you've always wanted.
More Than 65 Years of Advanced Hydrotherapy Engineering
As a result of more than 65 years of hydrotherapy engineering experience, the Jacuzzi® brand has developed products that provide uniquely rejuvenating hydrotherapy experiences. From waterfall showerheads to Whirlpool bathtubs, Jacuzzi® technology is designed to deliver a premium hydromassage experience benefitting the body and mind.
Build Your Bathing Sanctuary From the Ground Up
With Jacuzzi Bath Remodel, you'll have the chance to choose from a variety of hydrotherapy options, sophisticated fixtures, and functional accessories that have been carefully crafted to add a customized look and feel to your bathroom. We have everything you need for optimal comfort, and most of our products are made from resilient, state-of-the-art acrylic that will never crack or fade under normal use. Here are a few of our most popular bathtubs among homeowners seeking to upgrade their relaxation and comfort:
LUXURA® Drop-in Whirlpool Bath – With a name meaning "luxury", the LUXURA® bath delivers both a stylish look and a luxurious bathing experience.
Capella® Drop-in 2-Person Bath – This bathtub built for two is available in soaking and jetted models. It features a contoured backrest, molded seat, and armrests for unmatched comfort while you bathe.
DUETTA® Drop-in Bath – The strong design profile and indulgent amount of space make the DUETTA® a long-time favorite. The best part is that this model is available in four different hydrotherapy experiences.
Inizio™ Freestanding Bathtub – The Inizio™ is the foundation for any beautiful bathroom retreat. Its subtle oval design allows it to blend in with any décor.
If you prefer a shower over a bathtub, you'll be glad to know that we can help with that, too. Jacuzzi® shower systems are completely customizable, allowing you to personalize your experience with whatever hydrotherapy features catch your eye. What's more, we offer various accessories like grab bars and shelving designed to add safety and convenience in addition to improving your comfort.
Bring Your Vision to Life With Jacuzzi Bath Remodel
At Jacuzzi Bath Remodel, you'll find a nationwide network of experts who can make your dream bathing space come to life for a price that fits your budget and complete the installation in as little as one day. Working with an authorized dealer ensures that you're getting genuine Jacuzzi® products and a frustration-free remodel. If you're ready to get started, contact Jacuzzi Bath Remodel today to learn more about our collection of low-maintenance shower bases and wall surrounds, premium bathtubs, sophisticated fixtures, and more.