Jacuzzi Acrylic Shower Wall Options
Mar 21, 2023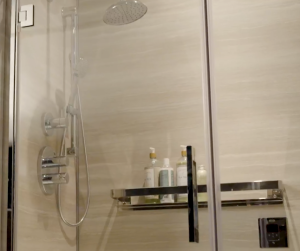 Are you tired of looking at your outdated shower? Upgrading your shower's wall surround may provide the premium touch you're missing. Jacuzzi Bath Remodel has everything you need for the bathroom remodel of your dreams, from streamlined, low-threshold shower bases to acrylic shower wall options that will elevate the visual appeal of your space.
Designer Shower Wall Textures & Colors From Jacuzzi Bath Remodel
At Jacuzzi Bath Remodel, we install best-in-class Jacuzzi® products. Our shower walls are made from nonporous acrylic that is durable and easy to clean, so you can spend less time cleaning and more time relaxing. They even feature silver ions for built-in antimicrobial protection. Your Jacuzzi Bath Remodel dealer will be happy to guide you through the available shower wall options, which include:
Solid wall colors – Our classic solid matte wall options can suit any space.
Textured wall designs – We offer several enduring styles of textured wall designs that will add a touch of warmth as well as depth to your shower space.
Custom wall designs – You can combine solid-colored walls with a textured accent wall to create a unique design. It's the best of both worlds.
What's more, you'll be able to add luxurious fixtures and shower accessories so that your new bathing space provides as much function as it does beauty. All installations are handled by experts and can be completed in as little as one day.
Get Started Today
Ready to design your personal spa-like sanctuary? Jacuzzi Bath Remodel will take your vision from design consultation to dream bathroom, frustration-free. Reach out today to be put in touch with an authorized dealer near you.