How to Update a Bathtub Without Replacing It
Sep 12, 2023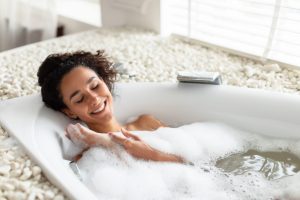 Stepping into your bathroom, you're immediately met with the sight of an aged bathtub, its once-glistening finish now dulled by time and use. But what if there was a way to bring back that original charm without the cost and hassle of a complete replacement? Learning how to update a bathtub without replacing it is more accessible than most think, and the results can be truly transformative.
The Magic of Modern Fixtures
To update a bathtub, start with the simpler changes. Modern fixtures can breathe new life into an old bathtub. Think of the glint of a brand-new faucet or the luxurious sensation of a state-of-the-art showerhead. This small change can elevate the entire atmosphere, transforming mundane routines into indulgent experiences.
The Power of Detailing
For those wondering how to renovate a bathtub after years of wear and tear, often it's the minor details that make the most significant difference. The faded caulk, the subtle stains—  they all tell tales of years gone by. A touch of recaulking and resealing can wash away these tired old stories, leaving behind a place where new stories can come to be.
Surrounds: The Game Changer
A significant impact maker in how to update an old bathtub lies in the surrounds. An updated wall surround can redefine the aesthetic of the entire bathroom. Whether your heart desires a touch of vintage charm or sleek contemporary vibes, the choices are limitless.
Comprehensive Resurfacing
But what about those tubs that wear the scars of time a little more visibly? For them, resurfacing provides the magic touch. Shedding away the years, a resurfaced tub can gleam and shine just as brightly as a brand-new one, at a fraction of the cost.
Why You Should Work With Jacuzzi Bath Remodel
If you've found yourself wondering how to update a bathtub without replacing it, know that possibilities abound. From minor tweaks to significant overhauls, the journey to rejuvenation is both exciting and rewarding. Rediscover the beauty of your bathroom today. Contact us to get started.