How Can I Save Money on My Bathroom Remodel?
Oct 13, 2023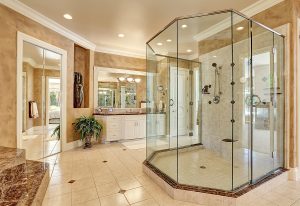 A bathroom remodel can be a major investment, and many homeowners experience sticker shock when they find out how much a floor-to-ceiling total bathroom remodel can cost. However, there are plenty of options you can consider that can help you save money on your bathroom remodel so that you don't have to break the bank to get the stunning results you desire.
DIY vs. Professional Bathroom Remodeling Services
After finding out what a professional bathroom remodel can cost, many homeowners wonder: can I save money by doing some of the work myself? While there are some areas of the bathroom where a DIY approach can save you money, there are other areas that are always best left to the professionals. Here's what to consider as you determine if you can and should save costs by handling some of the work yourself.
What are some common mistakes to avoid when trying to save money on a bathroom renovation?
The first thing to look out for is common mistakes homeowners make when trying to save money.
Choosing the cheapest products – For the DIYers out there, it can be tempting to look for cheap bath renovation materials that will save some money upfront. However, it's also important to consider the quality of the materials you choose, as the long-term costs may be higher if you constantly have to repair or replace a product. Keep this in mind as you explore options for affordable yet stylish fixtures and fittings.
Trying to handle everything themselves – Another common mistake homeowners make is thinking they can handle more of the bathroom renovation than they can. While hanging a few shelves and towel racks and even replacing the floor are projects that handy homeowners can do on their own, the bathtub and shower space is an area that's always best left to the professionals. There are plumbing and drainage considerations involved in a bath or shower remodel, not to mention how large, heavy, and cumbersome these products can be.
Not getting a price quote for various services – It can be easy to assume that a bathroom remodel will simply be unaffordable given the work and products involved. However, unless you get some price quotes from local bathroom remodelers, you won't have an idea of how to budget for your project or how to cut costs as necessary.
How do I create a realistic budget for my bath remodel?
Creating a realistic budget for your bathroom remodel begins by understanding what the different products and services may cost. Get price quotes for various bathroom renovation services and don't be afraid to ask for quotes based on adding or removing certain services from the project. From there, you'll have a better sense of what to expect. Additionally, you should ask your bathroom remodeling company the following questions:
What are the key factors that impact bathroom remodeling expenses?
Are there any government incentives or rebates for energy-efficient bathroom upgrades?
Are there financing options available for bath renovations?
When you receive a price quote, understanding what is or isn't impacting the bathroom remodel can help you determine how to cut or add things to make things work. Additionally, your local bath or shower remodeling company can help you find any incentives, promotional pricing, and even financing options to help with your bath remodel. Understanding how incentives impact pricing and exploring different financing options can help you create a realistic budget for your bath remodel.
Affordable Bath Renovation Tips
A budget-friendly bath makeover is possible. It just requires careful planning and consideration on your part. As you explore frugal bath renovation ideas and money-saving bathroom upgrades, make sure you consider your priorities. Determine what's most important to you as you plan your bathroom remodel so that you can determine what you might want to cut to lower your bath remodel expenses.
Remember that some things, such as the wet areas of the bathroom, are always best left to the professionals as it will save you time and money in the long run by ensuring you don't create major plumbing issues that may impact the rest of your home. Additionally, keep in mind that focusing your bathroom remodeling dollars on the wet area of the bathroom can have a big impact on the look and feel of the entire space. This can allow you to enjoy the affordable bathroom remodel you want now while giving you time to handle smaller upgrades throughout the bathroom over time.
Get Started with Jacuzzi Bath Remodel
At Jacuzzi Bath Remodel, we proudly specialize in wet-area bathroom remodeling services that can help keep costs down and provide an affordable bathroom remodel solution for your home. Contact us today to learn more about our budget-friendly bath makeover services. We offer bathtub remodeling, shower remodeling, tub-to-shower conversions, and more.